FIFA, AFC pre-qualifiers: Bangladesh ready for Laos
Head Coach Jamie Day confident of winning the home game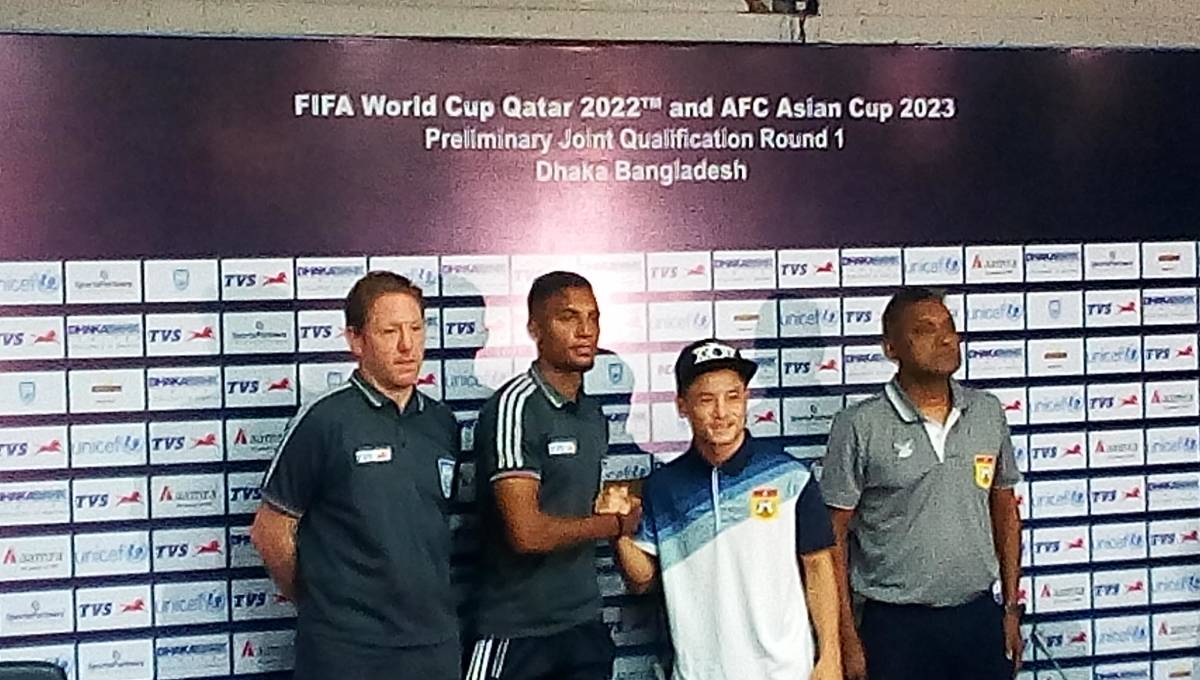 Dhaka, Jun 10 : Bangladesh will take on Laos in the second-leg of  the joint pre-qualification stage for the FIFA World Cup 2022 and AFC Asian Cup 2023 on Tuesday at 7 pm at Bangabandhu National Stadium here.
Bangladesh are enjoying the upper hand going into the game after beating Laos 1-0 in the first leg at the National Stadium in Vientiane, Laos, on June 6.
Robiul Hasan scored the match-winner for Bangladesh in the 71st minute by a low shot from outside the box to the frustration of home crowd.
With this victory, the morale of Bangladeshi footballers received a boost ahead of the Tuesday's home match against visiting Laos.
The men in red and green now need just a draw in their home match against Laos to earn the right to play in the qualifying round.
If Bangladesh can overcome the pre-qualifiers hurdle, they will be able to compete directly in the qualifying rounds of the FIFA World Cup 2022 and AFC Asian Cup 2023 and as well as to play in the  FIFA International friendly matches in the next three years.
Bangladesh Head Coach Jamie Day said that they will play tomorrow to win the game, not to draw.
"We will play tomorrow to win, not for draw. We don't need to take any massive risk in tomorrow's game. We just need to dominate the first half.  I think we have great chances to win," Jamie said in a pre-match press conference at BFF House on Monday.
While asking about their preparation Day replied, "Preparation is good and boys are fantastic. They need to enjoy the occasion."
Bangladesh Captain Jamal Bhuiyan said, "First match was tough for us specially the first half.  But second half was better. In tomorrow's match, we know Laos and they gonna attack us. We have to be ready."
While asking about their strategy Jamal replied, "We have better players than Laos. We just have to control the midfield. Without the control, we can't control the match."
On the other hand, Laos head coach V Sunddram Moorthy said, "We are preparing ourselves after the first game against Bangladesh in the first-leg. We have identified our mistakes and we need to rectify."
"Bangladesh is improving for the last couples of months, especially, in long throw-in. Our eight players were playing in foreign league and off them seven in Thailand. They joined in team. Now we need to play our game" Laos head coach V Sunddram Moorthy added.
Laos team captain Souk Aphone Vongchiengkhan said, "We want to win. We will give hundred per cent in tomorrow game. Now we are better than before with some of our players returning from Thailand."
Earlier, the first batch of the 31-member Laos football team arrived in Dhaka Saturday while the remaining part of team arrived here on Sunday.
Bangladesh are ranked 188th and 41st in the FIFA International Ranking and AFC Ranking respectively while Laos remained 184th and 38th.
A total of 12 Asian nations — six seeded teams (ranked 35th to 40th in AFC) against the six unseeded teams (ranked 41st to 46th in AFC) -– will participate in the round-1 of both the tournaments.
The 12 teams are Bangladesh, Laos, Mongolia, Brunei Darussalam, Macau, Sri Lanka, Laos, Bangladesh, Malaysia, Timor-Leste, Cambodia, Pakistan, Bhutan and Guam.
The six winners of the 12-team fray will join top 34 Asian teams in the round-2 qualifiers, scheduled to be held in September.
Earlier, Bangladesh beat Laos by 1-0 goal in Sylhet in October last year in the group stage of Bangabandhu Gold Cup.
In the previous two meetings, Bangladesh lost to Laos by 1-2 goals in the first round of the Asian Cup in Hong Kong in March 2003 and played a 2-2 draw in a FIFA international friendly in Vientiane last year
Bangladesh squad: Tutul Hosain Badsha, Mamunul Islam Mamun, Sohel Rana,  Ashraful Islam Rana, Anisur Rahman Zico, Yeasin Khan, Bishwanath Ghosh, Jamal Bhuyan (C), Rahmat Mia, Mohammad Ibrahim, Biplu Ahmed, Masuk Mia Jony, Sushanto Tripura, Md Rabiul Hasan, Nabib Newaj Ziban, Tawhidul Alam Sabuz, Riyadul Hasan, Matin Miah, Md Mazharul Islam, Arifur Rahman, Nasir Uddin Chowdhury, Mahbubur Rahman, Emon Mahmud.