Beximco to produce medicines in Saudi Arabia from next year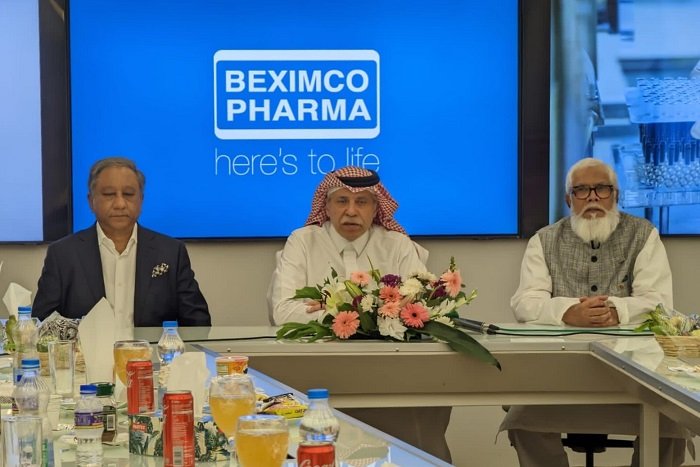 With joint investment from Bangladesh and Saudi Arabia, Beximco Pharmaceuticals is set to start producing medicines in the kingdom from next year, Prime Minister's Private Industries and Investment Adviser Salman F Rahman said on Saturday.
Bangladesh will provide Saudi Arabia with manpower and technical support for the plant, he said while speaking to reporters after a visit to Beximco Pharmaceuticals with a delegation led by Saudi Commerce Minister Majid bin Abdullah Al Qasabi, UNB reports.
Rahman said, "We are committed to producing medicines, maintaining top quality. In terms of pharmaceutical exports, we must adhere to a variety of international procedures. This is why people around the world have trust in medicines produced in Bangladesh."
"According to reports, the medicine produced in Bangladesh are of high quality. Besides, prices are also quite reasonable compared to other countries," he added.
Referring to the growth of the pharmaceutical industry in Bangladesh, he said the industry in the country has made good progress and made a mark in the global market.
"The government is setting up a pharmaceutical park. The raw materials for medicines will be produced there very soon, which will further accelerate the growth of this industry."
Saudi Commerce Minister Majid bin Abdullah Al Qasabi arrived in Dhaka on Friday afternoon to attend the Bangladesh Business Summit-2023, organized by the FBCCI in the capital.
Earlier on Saturday, Bangladesh and Saudi Arabia had signed three MoUs in order to strengthen economic and trade relations between the two countries.
One of the agreements would allow a Saudi company to set up gas pipelines through India and Bangladesh under a public-private partnership (PPP) basis. Two MoUs were signed with Saudi Arabia for developing Rangpur Sugar Mills and Patenga Container Terminal.
Later, a group led by the Saudi commerce minister visited Beximco Pharmaceuticals and met with a delegation from Beximco Pharmaceuticals.
While speaking to reporters, the Saudi minister said: "Trade and investment between Bangladesh and Saudi Arabia have not yet reached the desired level. We will explore the trade relations between the two countries through the visit."
"We also want to harness our potential in information technology, communication, and manpower exports," Qasabi said.
Citing Beximco Pharmaceutical as a "world-class pharmaceutical manufacturing factory", the Saudi commerce minister said Beximco Pharmaceutical is producing medicines using all advanced technologies.
Meanwhile, Nazmul Hasan Papon, managing director of Beximco Pharmaceuticals, said at least 30 types of medicines will be produced at the plant in Saudi Arabia.
"Even though the plant is being constructed with joint investment from both Saudi Arabia and Bangladesh, we are providing the majority of the funds," he said.
Bangladesh is currently exporting medicines to 160 countries around the world after meeting its own demand.
According to the Directorate General of Drug Administration, the export of medicines in the 2021-22 fiscal year was US$ 188.78 million.