Council of Mosques condoles death of Aslam Uddin in London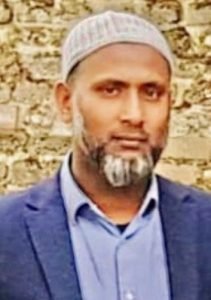 Mirror Desk : Council of Mosque Tower Hamlets' Coordinator Hafiz Maulana Shamsul Haque, Secretary Hira Islam and Treasurer Md. Abdul Munim Zahedi Kerol have expressed deep grief  over the death of Council of Mosque Tower Hamlets' Coordinator Mohammad Aslam Uddin.
The leaders expressed deep grief over his death and expressed deep condolences to the bereaved family members, seeking the repose of his departed soul.
May Almighty Allah forgive all his sins and grant him Jannatul Ferous  and grant his family patience. Ameen.
It may be noted that he was under treatment for Motor Neuron Disease (MND) for the past one year.
He died at his home in Bow, East London at 9.15am on Friday, September 15. (Inna Lillahi Wa Inna Ilaihi Raziun).
He was 53 years old. When news of his death spread, mourning fell across London.
Mohammad Aslam Uddin is a very well-known face of the Bangladeshi community in London.
He made an outstanding contribution to the spread of Islam in London and the message of Islam to non-Muslims.
He is an active coordinator of the Council of Mosques Tower Hamlets, an organization of representatives of the 59 mosques and Islamic shrines in the Tower Hamlets Council area.
Many Masjid Madrasah people have benefited from him.
He has left an important contribution to come forward with different types of educational training and other activities with members of the mosque committee and imams.
He also has numerous roles in social service.
He has countless fans in the country and abroad. He was an unassuming and very modest and simple person.
In his death, the community has lost a devoted soul of the Islamic movement, a social worker and a servant of the Quran. Which cannot be fulfilled. May Allah reward him for all his deeds.