Abdul Ghaffar Chowdhury cherished Bangabandhu's ideals for a lifetime – Speakers at the memorial meeting in London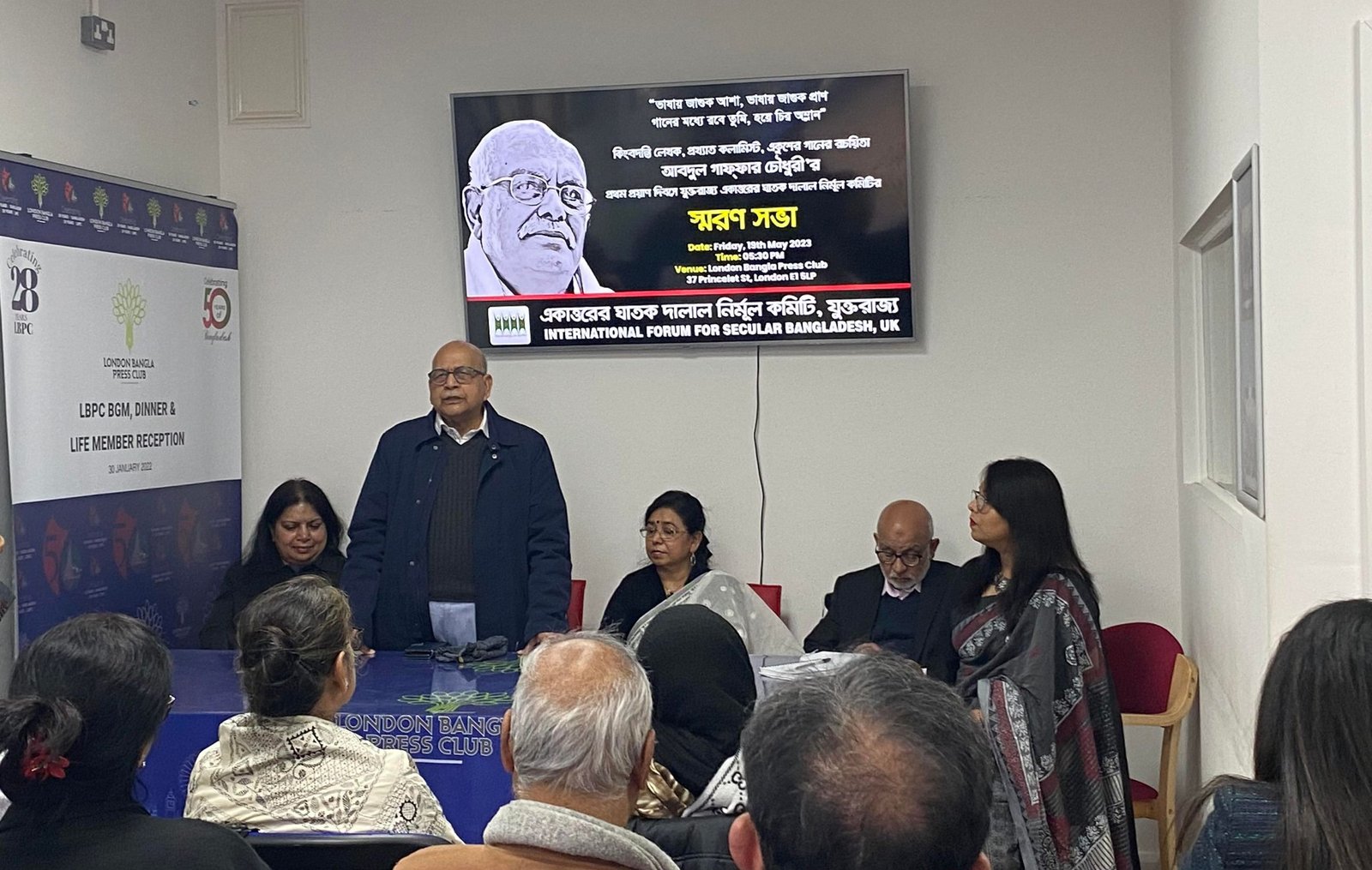 Muhammed Shahed Rahman :
Speakers at the commemoration meeting in London on the first death anniversary of Ekushey song writer, renowned writer and legendary journalist Abdul Ghaffar Chowdhury said that he kept the Bengali language alive till the day of his death. This legendary journalist who was close to Bangabandhu Sheikh Mujibur Rahman cherished the ideals of Bangabandhu all his life.
On Friday (19 May 2023), held at the London Bangla Press Club office in East London, the commemoration of the first death anniversary of Abdul Ghaffar Chowdhury, organized by the United Kingdom branch of the Khatak Dalal Nirmul Committee of 1971, was presided over by Nilufa Yasmin, the vice president of the organization and the message editor of Satyavani.
A minute's silence was observed in memory of Abdul Ghaffar Chowdhury
Sultan Mahmud Sharif, the senior top organizer of the Liberation War in Britain, president of the United Kingdom Awami League, spoke as the chief guest in the discussion program moderated by General Secretary Munira Parveen.
Ghaffar Chowdhury Tanima Tanima Chowdhury and freedom fighter Lokman Hossain were special guests.
Himanshu Goswami, Kanthajoddha of 1971, performed the music through the last song written by Abdul Gaffar Chowdhury. Media personality Urmi Mazhar recited the poem.
A minute's silence was observed at the beginning of the program in memory of Ghaffar Chowdhury.
While starting the program, the moderator remembered the language martyrs of Barak Valley and said that today, May 19 is the Language Martyrs Day of Barak Valley of Assam. On this day in 1961, 11 people lost their lives in Barak's Silchar in the struggle for Bengali language rights. The first one who gave her life was Kamala Bhattacharya, the first female language martyr in the history of the world who is a part of history today. Ten of these eleven language martyrs were born in Sylhet region of Bangladesh.
21st February 52 and 19th May 61 are our forever sour. We Bengalis are the nation to protect the mother tongue on earth, Abdul Ghaffar Chowdhury is one of the proud children of that nation. Coincidentally, Ghaffar Chowdhury, who wrote timeless poems in memory of the language martyrs of 52 and occupied an important place in history, was respected throughout the world, the death of that Ghaffar Chowdhury is also another language day, the day of sacrificing the lives of the language soldiers of Barak Valley. I think this is a coincidence of history. On this day, we pay our respects to the martyrs of all languages ​​of the world including Abdul Ghaffar Chowdhury.
At the beginning of the program, Sultan Sharif showed respect to Ghaffar Chowdhury in his speech and said that Abdul Ghaffar Chowdhury was the top among the people who stood against those who wanted to destroy the Bengali language after the assassination of Bangabandhu.
He worked to save Bangladesh after the assassination of Bangabandhu, through his writings he worked to create passion for Bangabandhu's daughter Sheikh Hasina. He will live forever on his own karma.
Abdul Ghaffar Chowdhury's daughter Tanima Chowdhury recalled in this memorial meeting and said, I saw my father cry for the first time after the assassination of Bangabandhu. Father cried out. Father's place of faith was unwavering. He wrote what he believed. Do not be influenced by the beliefs or thoughts of others. Only one man could influence him, he was Bangabandhu.
Another organizer of Billete Liberation War, sixties student leader and former chief executive of JCWI Habib Rahman, freedom fighter and veteran journalist Abu Musa Hasan, former BBC Bengal journalist Uday Shankar Das, editor-in-chief of weekly Janmat, journalist Syed Syed spoke on the occasion among others. Nahas Pasha, writer and journalist Hamid Mohammad, ex-president of Khatak Dalal Nirmul Committee UK branch of Ektar Syed Enamul Islam, Awami League leader Husna Matin, journalist AS Masum, retired teacher Razia Begum, UK organizer of Amara Ektar Satyabrat Das Swapan, filmmaker Mustafa Kamal , Writer Moinur Rahman Babul, Md Abdul Aziz, Keaton Sikder, Jamal Ahmed Khan, Freedom Fighter Abdur Rahman, Freedom Fighter Abul Kashem Khan, United Kingdom Awami League Organizing Secretary Abdul Ahad Chowdhury, Nirmul Committee Shah Belal, Nazrul Islam Aqib, Mujibul Haque Moni, Syed Hilal saif,Shampa Dewan, Abdul Basir, Najma Hussain and Journalist Rumana Rakhi.
In the meeting, there was a demand to name a hall of Dhaka University and a road in Dhaka after Abdul Ghaffar Chowdhury and to form a memorial council in his name in a unanimous resolution of his memorial meeting. The program ended with the song of Amar Ekush.