Remembering Muhith in Sylhet on his first d e a th anniversary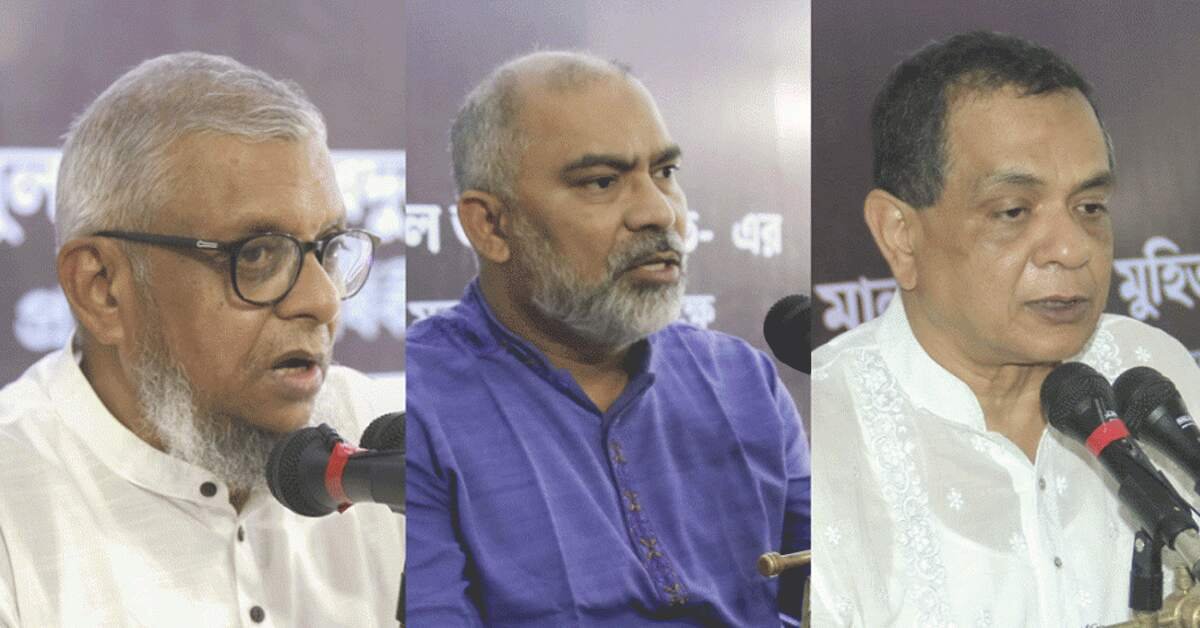 A memorial meeting was held in Sylhet on the occasion of the first death anniversary of language struggler, brave freedom fighter and former finance minister Abul Mal Abdul Muhith.
On Sunday afternoon, the meeting held at the Shahid Soleiman Hall of the Central Muslim Literary Council was chaired by the convenor of the collective civic initiative, Bir Muktijoddha Md. Arsh Ali. A minute's silence was observed in honor of the occasion.
Mihirkanti Chowdhury, a prominent writer, translator and CEO of Tagore Center, presented the main article titled 'Multidimensional Abul Mal Abdul Muhit' in the discussion session. Educator Abul Fateh Fattah discussed the article.
Speakers said, Abul Mal Abdul Muhith was an enlightened man of the world for his intellectual thinking and creative work. He called white white, black black. He was a cosmopolitan beyond parochialism.
Organized by the member secretary of the organization, Ahmed Noor, leaders of various political, cultural, sports, business and professional organizations were present in the event.
Sylhet City Corporation Mayor Ariful Haque Chowdhury said, "Abul Mal Abdul Muhit was a hard-working patriot. The people of Sylhet are blessed to have given him a public reception before his death. But we politicians have been able to give him due respect? could not We could not honor him by cherishing his ideals."
Awami League's central organizing secretary Shafiul Alam Chowdhury Nadel said, "Abul Mal Abdul Muhit used to call white people white and black people black." People's leader Sheikh Hasina had confidence in him. He knew how to do politics at the field level without being a conventional politician. He used to learn from leaders and workers. He developed Sylhet avoiding regionalism. It is not possible to discuss the life and work of this great man in this small scale."
He said, "He was the enlightened man of the world for his intellectual thinking and creative work."
Awami League Central Committee member Azizus Samad Azad Don said, "Whenever I went to Abul Mal Abdul Muhit, he used to give time. I know him as a researcher. He always had a book in his hand. And with his inspiration I also write."
District Awami League Acting President, former Member of Parliament Shafiqur Rahman Chowdhury said, "He was born in a short time. He was a Bengali at heart. He lost an election but did not leave Sylhet. Beside people until death. I will say, even after death he is among us; Stay."
Mahanagar Awami League president Masuk Uddin Ahmed, a brave freedom fighter, said, "We are getting consistent results of his plans. His contribution as an honest and efficient person was unique. There will be no substitute for him. Let a book be published on his activities."
Zakir Hossain, General Secretary of Metropolitan Awami League, said, "He is a rare fortune as a language soldier and freedom fighter."
Sylhet Sadar Upazila Chairman Ashfaq Ahmad said, "If such a small collection is brought out every year, then we will know about his colorful life."
United Kingdom Awami League joint general secretary and Awami League mayoral candidate in the Sylhet city election Anwaruzzaman Chowdhury said, "Abul Mal Abdul Muhit was the leading man of the Sheikh Hasina government."
"He was a simple man. What he believed, he said clearly. He was also international through Sylhet. Padmasetu is the product of his courage; The harvest of wisdom. Not only Sylhet, but his contribution to the comprehensive development of the country will always be remembered."
In the original article, Mihirkanti Chowdhury said, "Abul Mal Abdul Muhith is one of the few people in the political arena of Bangladesh who easily called white as white and black as black. His fearlessness was a source of fear for many. His great manifestation was possible because of the right development of his intellect, mind and personality at the right time. It took place before the development of the current Bangladesh."
Discussing the original article, academician Dr. Abul Fateh Fattah said, "There was culture in his anger, there was culture in his humor. His simplicity and genius were proverbial. I will remember him by reading his works."
Sylhet District Sports Association general secretary Mahi Uddin Ahmad Salim, vice president and politician Bijit Chowdhury, vice president of Sylhet Metropolitan Chamber of Commerce Abdul Jabbar Jalil, Md. Rajuddin, Poet AK Sheram, Poet Nasima Chowdhury, Rajatkanti Gupta, President of Samilit Natyaparishad.
In the speech of the president, Arsh Ali said, "The person Abul Mal Abdul Muhith transformed himself into an institution. The family education environment has contributed to its popularity. He was a patriot and was devoted to the welfare of people throughout his life."