Four members of Jama'atul Ansar Fil Hindal Sharqiya held in Sylhet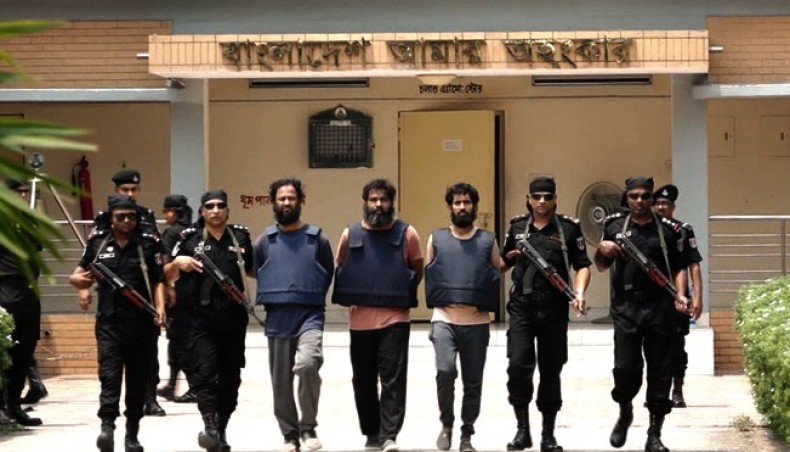 Members of Rapid Action Battalion have arrested four members of a newly formed extremist outfit Jama'atul Ansar Fil Hindal Sharqiya in Sylhet's airport area.
Based on intelligence, they were arrested in an overnight operation on Monday, RAB-9 said in a press conference on Tuesday.
Abdullah Maymoon alias Mumin, 34, shura member of Jama'atul Ansar Fil Hindal Sharqiya and head of Dawati Branch is among the four arrested.
The other arrested were Md Abu Zafar Tahan, 40, son of late Sheikh Abdus Salam of Faridpur, Md Aktar Kaji Sayeed, 38, son of late Mostafa Kazi of Chandpur's Matlab North upazila, Salahuddin Razzak Mollah, 32, son of late Abdur Razzak from Gopalganj's Muksedpur area.
During the raid, Tk 2 lakh in cash, electronic devices and important documents were seized from them.
RAB-9 media officer Afsan-Al-Alam disclosed the information at a press conference at RAB-9 office around 11:30am on Tuesday.
He said the arrested were all trained extremists.
'They were trained by the separatist organisation Kuki-Chin National Front — based in Chattogram Hill Tracts. They also have links with Ansar al-Islam.'
Media officer Afsan said: 'Abdullah Maymoon used to collect money from different countries through innovative techniques and provide financial support for the weapons and training of new terrorist organisations. He also worked as a bridge between militant outfit Ansar al-Islam and Jama'atul Ansar Fil Hindal Sharqiya.'
At the press conference, RAB said that four members of the newly formed militant outfit rented a house in Barashala area of Sylhet suburb a week ago.
RAB-9 said the arrested Abdullah Maymoon completed Dakhil from a local madrassah in Sylhet. He was attracted to extremism after watching videos online of Muslims being tortured online in Palestine, Myanmar, Iraq and other places.
In 2013, he joined the Ansar al-Islam through a local. He was also the Sylhet division head of Ansar al-Islam.
Maymoon was arrested in 2019 in an anti-terrorism case and spent a year in jail before going out on bail in 2020.
Later, when his bail was cancelled, he went into hiding. In 2021, through Shura members Ranbir and Manik, Maymoon joined Jama'atul Ansar Fil Hindal Sharqiya and went to the hills. Being the Sylhet divisional chief of Ansar al-Islam, he was appointed as the Shura member and head of the Dawati branch of the organisation.
RAB officials said that legal action was being taken against the arrested.
The Rapid Action Battalion has so far arrested 68 members and leaders of Jama'atul Ansar Fil Hindal Sharqiya since its existence was known to RAB in 2022 while investigating the disappearance of eight youths in Cumilla. At least 17 members of KNF were also arrested for assisting the militants in training and other activities in the hills.