Bangladeshi painter Shamsul Alam's solo exhibition has started in London
By Muhammed Shahed Rahman :
Bangladeshi Painter Shamsul Alam's solo exhibition opens at Spitalfields Studios on Greatrex Street, E1 5NF, East London, until Tuesday, May 2, 2023. Opening hours are from 11 am to 6 pm.
Bangladeshi painter Shamsul Alam (Inan) tells a real story in Nisargechitra, it is this story that makes his canvas come alive. One of the elements of this landscape is the rivers of Bangladesh.
Which has come back again and again in his pictures, reminded thousands of memories of thousands of people, gave birth to thousands of stories. In his films, he has depicted the joys and sorrows of the localities and rural towns of Bangladesh.
Shamsul Alam's (Innan) second solo exhibition officially opened on Friday (28 April 2023) afternoon at Spitalfields Studios on Greatrex Street in East London.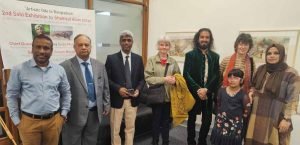 The exhibition was inaugurated by the Honorable High Commissioner of Bangladesh High Commission in London, Sayeda Muna Tasnim.
At the beginning of the exhibition, Golam Mostafa, President of Udichi Shilpi Gusti UK, Abdul Karim Gani, Editor of Bengla Mirror, the only English newspaper owned by Bengalis in the UK, Professor Shajidur Rahman, Secretary of UK Bangla Reporters Unity, Treasurer Muhammad Saleh Ahmad, Director of East London Academy of Arts Zaman MD Fakhruzzaman, UK Awami League Leader Community Activists Afsor Khan Sadek were present. Hundreds of visitors including visited this picture exhibition.
Painter Shamsul Alam told Bangla Mirror –
It was my dream to do a solo exhibition in Belet. Really good to start in London today. Seeing a lot of visitors and a few pictures have already been sold.
He said 28 pictures of me are being displayed here. In these pictures of mine, the laborers and underprivileged people of Bangladesh have been brought out through drawing.