Steak Republic: The New Steak Joint in Town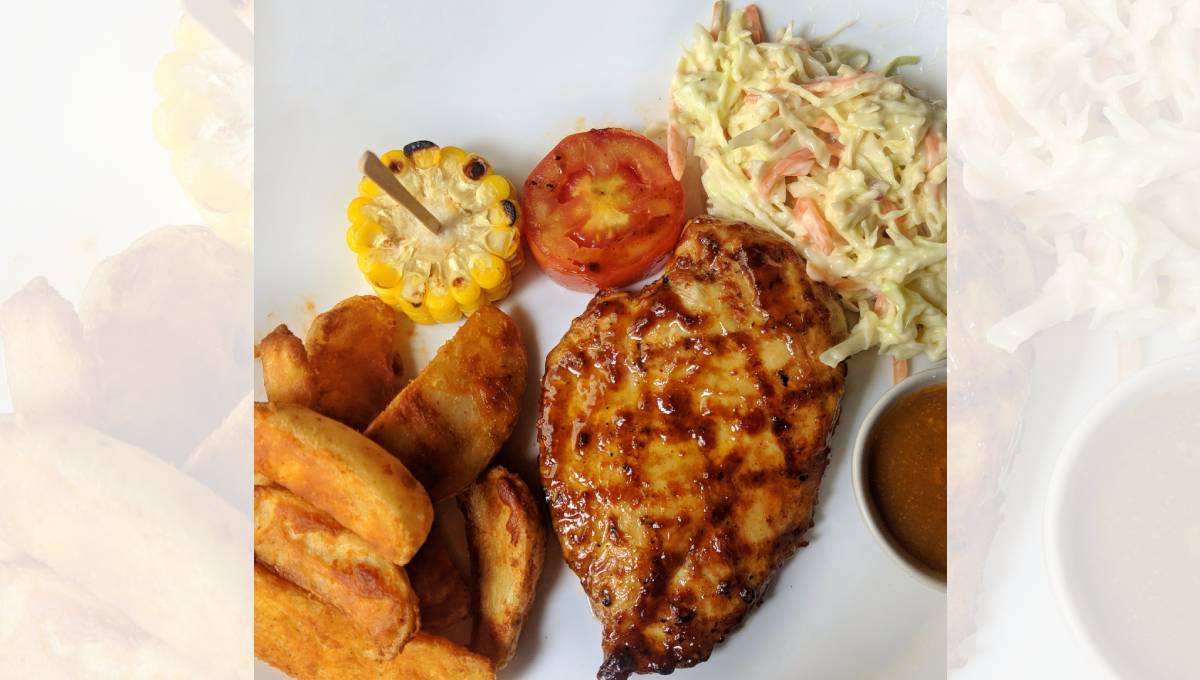 Dhaka, May 6 : Within 4 months of its inception, Steak Republic has become a well-known steak place in town. Located in Gulshan, Dhaka, the place boasts quality food along with a modern architectural space. I had seen many food fanatics rave about their affordable steaks and uploading profile pictures with the place's floating umbrella alley in the background. Finally, after a hectic week before finals, a few of us decided to treat ourselves to their steak.
Located on Road 36, Gulshan, Steak Republic was an easy find. Colorful orange streamers had replaced the umbrella due to Pohela Baishakh but still managed to deliver an airy feel amidst the summer heat. What shocked me was the empty restaurant during lunch hour. We were the only table occupied during lunch hour! Not that we were complaining as we had the whole place to ourselves.
We picked Platter 1 which served a rib eye steak and a BBQ style chicken with 2 sides. We picked a coleslaw, Mexican style rice, wedges, and mashed potato. All of this for BDT 1495 seemed like quite a steal. To top it off, add-ons of drinks and desserts were also available for BDT 99 each. We had gotten a Blue Lemonade and Lemonade Iced Tea. We also got a Sirloin Steak from their regular menu.
First came the drinks. While both the drinks had quite vibrant colors, the taste was far below average. The Blue Lemonade lacked the citric punch and my Lemonade 'Iced' Tea was WARM!! They had just brewed the tea and served it with ice. To be honest, it tasted like a street side 'lebu cha' just chilled. I know a Lemonade Iced Tea is quite a basic, but places like Mesquite Grill do an excellent job making the same drink.
Moving on to the main dishes, upon serving, what I noticed is that sweetcorn and grilled tomatoes were served in both the platters. The steaks also came with 2 different sauces; for the chicken, a buttery pepper sauce and with the sirloin and rib eye a more concentrated peppercorn sauce. All the sides came in great portions. The wedges were some of the best I've had with the crispy exterior and mushy inside, the coleslaw was fresh, the mashed potato could use a bit more cream or butter, and the Mexican style rice was objectively good, just not Mexican. Now moving on to the proteins, the sirloin steak was prepared medium well (as requested) and honestly, cooked brilliantly! The meat was tender and perfectly seasoned while the char added an extra element. As for the pepper sauce, it was too strong and sharp. In fact, we didn't try it anymore after having a taste of it. The rib eye on the other hand was served with a little bit of melted mozzarella on top, which till date, I have no idea why was necessary. This steak was served well done and was quite tough to chew into and the fats were not really a pleasant sight either. Their portions though are generous, with the sides thrown in.
If you tend to stay away from red meat, this chicken will be quite a delight. Of course, it was just a regular chicken breast tossed in BBQ sauce. It's the delicious and creamy buttery sauce that won us over. We dipped our wedges in it, had it with the chicken and beef too (yes, that good!). My only recommendation would be to not hammer the chicken breast to such thinness as it risks staying juicy.
I would highly recommend the place to anyone especially during special occasions and festivities as they give out great offers during those times. Since the space is quite a maze with multiple rooms, waiters might be not in sight at all times but the manager there asked for any feedback we might have. Steak Republic isn't perfect; the food isn't of premium quality. But if you're looking to enjoy a mid ranged steak place with filling sides, this should be on your  list!
By: Ifreet Taheea