PM Sheikh Hasina reaches London from Washington DC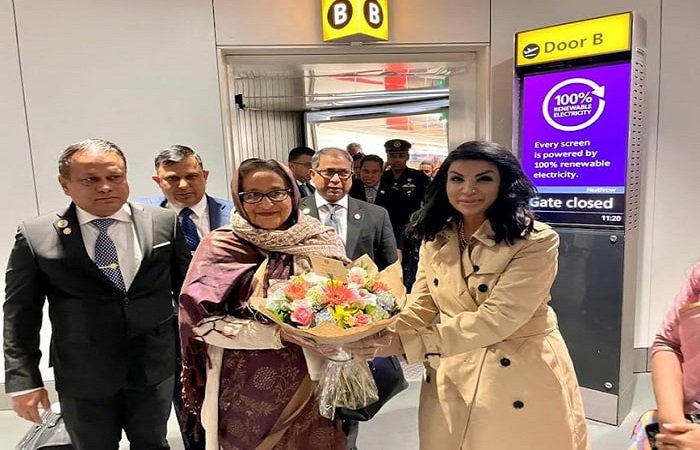 Prime Minister Sheikh Hasina has arrived in London, the capital city of the United Kingdom (UK), from Washington DC.
A commercial flight of the British Airways carrying the Prime Minister and her entourage members landed at the London Heathrow Airport at 11:07am today (London time).
Bangladesh High Commissioner to the United Kingdom (UK) Saida Muna Tasneem received the Premier at the airport.
The flight had departed the Dulles International Airport, Washington DC, for London at 11:40pm (Washington time) on September 29.
Bangladesh Ambassador to the USA Muhammad Imran saw the Prime Minister off at the airport.
Earlier on September 23, the Premier reached Washington DC after attending the 78th United Nations General Assembly (UNGA) session and other high-level side and bilateral events in New York from September 17 to 22.
During her stay in Washington DC, Sheikh Hasina attended a reception accorded to her by Bangladeshi expatriates in the USA and visited Bangladesh embassy in Washington DC.
The Prime Minister will leave London for home by a commercial flight (BG -208) of the Biman Bangladesh Airlines around 8:35pm (London time) on October 3 and is scheduled to reach Hazrat Shahjalal International Airport, Dhaka at 12:30am (Bangladesh time) on October 4.