Drik film 'Goni' wins Jackson Wild Media Awards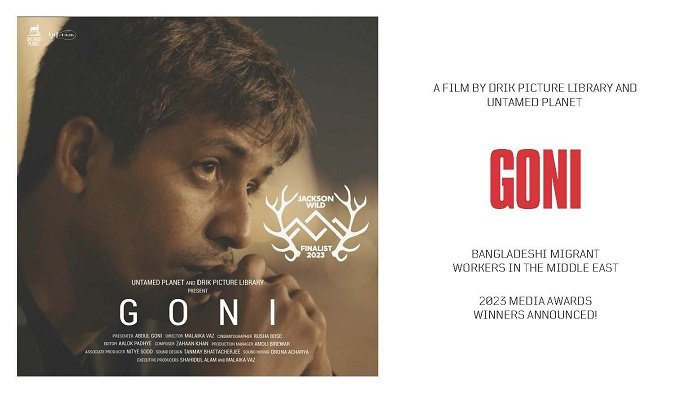 Bangladesh-India co-produced documentary film 'Goni' by Drik Picture Library and Untamed Planet won the Jackson Wild Media Awards 2023 in the Global Voices category.
Winners of the awards were announced during the Grand Teton Awards Gala on Thursday at the Jackson Wild Summit in Grand Teton National Park, WY. Produced by Drik Picture Library in Bangladesh and Untamed Planet in India, the film highlights the plight of Bangladeshi migrants who work in the construction industry in the Middle East.
The submissions included over 1100 category entries from over 74 different countries. Finalists were selected by more than 200 international judges who together screened over 1,200 hours of media.
Considered the highest bar of achievement in natural history filmmaking, the Jackson Wild Media Awards celebrate excellence and innovation in nature, science, and conservation storytelling. It is a forum for Innovation where diverse and passionate storytellers come together to share bold new ideas that push the frontiers of storytelling about nature, science and conservation.
'Goni' addresses the plight of Bangladeshi migrants who work in the construction industry in the Middle East. The film includes documentation in Bangladeshi migrant homes as well as the effect of climate change upon Bangladeshis living in vulnerable conditions. It also includes footage of the FIFA 2022 World Cup in Qatar as well as previously unrecorded underground coverage of the living conditions of migrants in Qatar.
The executive producers were Drik's managing director and National Geographic Explorer at Large Shahidul Alam and National Geographic explorer Malaika Vas, who also directed the film.
'We are deeply honoured to receive this award at the Jackson Wild Media Awards. Goni represents the hard work, dedication and passion of our talented team who have tirelessly strived to create a film that not only entertains but also educates and inspires viewers about the plight of migrant workers, a mainstay of the Bangladesh economy. This recognition serves as a reminder of our responsibility to ensure that the rights of the millions of workers who take great risks and endure inhuman conditions to send remittance home,' said Shahidul Alam.
The film was initiated by Drik in December 2021 in Qatar and initial research was followed by filming in Bangladesh. Untamed Planed joined in July 2022 and further filming took place in Bangladesh and Qatar.
Protagonist Abdul Goni, director Malaika Vaz, cinematographer Rusha Bose, executive producers Shahidul Alam and Malaika Vas, editor Aalok Padhye, composer Zahaan Khan, researcher Parvez Ahmed and production assistants Tushikur Rahman and Atower Rahid were amongst the team members.
The film is told through the eyes of Abdul Goni, a former migrant worker who now works as a photojournalist at the Daily Ittefaq. Goni also won the top award in the Bangladesh Press Photo Contest 2023, organised by Drik.
The other finalists in the Global Voices section included 'Keepers of the Land', 'Nkashi: Race for the Okavango' and 'The Elephant Whisperers'.