US prepared to extend support for 'free, fair, peaceful' election in Bangladesh: Peter Haas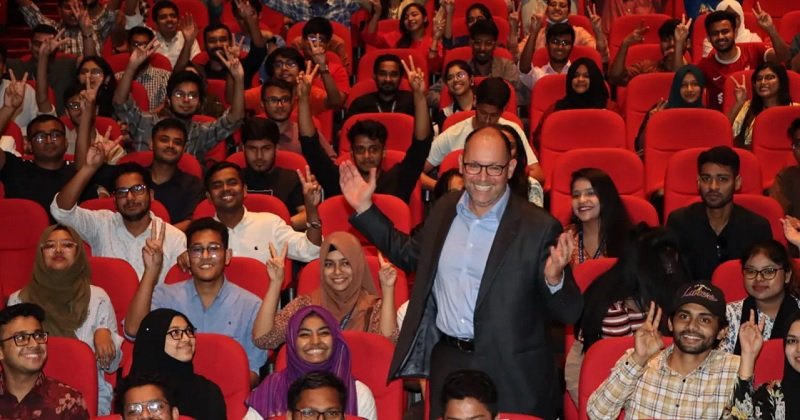 US Ambassador to Bangladesh Peter Haas has said that they are prepared to extend support to the declared goal of a "free, fair and peaceful" election in Bangladesh.
He said the USA's goal is not to interfere in the election but to support the goal that allows people to freely choose who they want to run the country.
"We speak out frequently in support of the goal," said Ambassador Haas.
The US ambassador also said it is the collective responsibility of the entire world to make sure that conditions are in place in Myanmar so that the Rohingyas can return to their homeland with dignity.
"They need to be protected, educated, and they need to enjoy dignity where they are living," he said while attending an event as a keynote speaker.
The US ambassador said the Rohingyas should not be punished for the action taken by Myanmar and they should be treated well without any discrimination towards them.
Ambassador Haas laid emphasis on constant collective pressure on Myanmar, noting that the solution to the crisis unfortunately is not so easy.
He said they are also exploring the option of resettlement, but it offers very limited opportunity as it is meant for only the most vulnerable people.
The ambassador also highlighted the importance of holding people responsible for the genocide.
He appreciated Bangladesh's generosity in providing shelter to the Rohingyas; otherwise, he thinks the situation would have been far worse.
On the occasion of International Day of Peace, the US ambassador said: "The essence of International Peace Day is to remind us of the critical role of peace in addressing global challenges."
Chaired by Professor Atiqul Islam, NSU's Vice-Chancellor, the session, held at NSU's main auditorium, experienced the full-capacity of 1200 audience comprised of students, faculties and officials of NSU.
Welcoming all, Javed Muneer Ahmad, Chairman, NSU Board of Trustees, said that peace is the most precious resource now in a conflict-ridden world.
Dr. Abdul Wahab, Coordinator, Center for Peace Studies (CPS) made opening remarks, highlighting CPS's role in promoting peace, sustainability, and diplomacy through research, dialogue, and community engagement.
During a Q&A session, Ambassador Haas highlighted the USA's firm dedication to peace in Bangladesh and South Asia, especially referencing the Rohingya crisis.
He emphasized the vital role of youth, equipped with education and digital resources, in global peace efforts.
On foreign policy, Hass indicated the USA's preference for diplomacy over military action and emphasized strengthening ties with key nations like Bangladesh.
Additionally, he mentioned the Indo-Pacific Strategy's focus on anti-corruption measures to bolster trust and economic growth.
Session Chair Professor Atiqul Islam observed that even stable countries face significant inequalities and political divisions. Hence, the world urgently requires peace due to the widespread impacts of war, conflict, and displacement, he said.
An olive tree planted by the Chair of NSU's Board of Trustees further cemented the NSU's commitment to environmental sustainability, drawing a parallel between a peaceful world and a thriving planet.
The Center for Peace Studies (CPS) of the South Asian Institute of Policy and Governance (SIPG) and the Office of External Affairs (OEA) of North South University jointly organized the event to observe the International Day of Peace 2023 at North South University.
The theme of this year's Peace Day event is "Actions for peace: Our ambition for the #GlobalGoals".
Haas urged the future leaders of Bangladesh to take this theme to heart.
"Your ambition, creativity, and determination will play a vital role in achieving the Global Goals. Be advocates for peace, forces for democratic ideals, champions of connectivity, and ambassadors of prosperity," he said.
"Through your actions, you can help make our world a more peaceful, connected, and prosperous place for all," he added.