Govt is buying 10 Airbus aircraft from France to get commission, says Fakhrul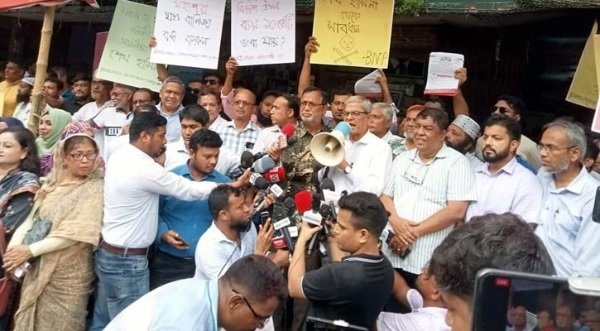 BNP Secretary General Mirza Fakhrul Islam Alamgir on Tuesday alleged that the government is buying 10 Airbus aircraft from France with an aim to get commission.
"It's very nice thing that the President of France has arrived here…he is our big guest. You (govt) welcomed that guest very well with dance and song," he said, reports UNB.
Speaking at a programme in front of BNP's Nayapaltan central office, Fakhrul said the people of the country who are struggling to manage food in the dire situation of the country presumed that something good was happening during the France President's tour.
Read: France happy with Bangladesh's commitment for acquisition of 10 A350 from Airbus
"What has happened? It's said that 10 Airbus aircraft will be procured. Their (govt's) real goal is to get kickbacks on this Airbus. Do you understand the kickbacks? It means commission," he said.
The BNP leader said there is no scope to get commission by procuring Boeing. "That is why 10 Airbus planes are being purchased."
Fakhrul, also a former state minister for civil aviation, said the government is going to procure the Airbus aircraft though it cannot ensure food for people of the country, treatment for them and build hospitals and provide health services. "They (govt) also can't ensure the people's right to franchise."
He also questioned the justification of buying 10 Airbus planes for Biman Bangladesh Airlines when the state-run organisation has collapsed. "Biman also can't provide any service properly. "They're purchasing the Airbus aircraft for creating scopes for stealing ( public money).
"They (govt) have probably cut the commission immediately."
Later, the BNP Secretary General inaugurated the three-day leaflet distribution programme taken by Dhaka South city unit BNP for creating public awareness to control the dengue outbreak.
French President Emmanuel Macron arrived in Dhaka on Sunday evening on a short tour at the invitation of Prime Minister Sheikh Hasina.
This was the first visit by any French president to Bangladesh in over last three decades.
President Macron held talks with PM Hasina at the Prime Minister's Office on Monday. He joined a banquet hosted by Hasina in his honour on Sunday.
The two leaders witnessed the signing of a couple of bilateral instruments (agreements/MoUs) to enhance cooperation in different fields including infrastructure and satellite.
According to media reports, Bangladesh committed to procuring 10 A350 aircraft from Airbus.