Indian-origin ex-minister Tharman wins Singapore presidential election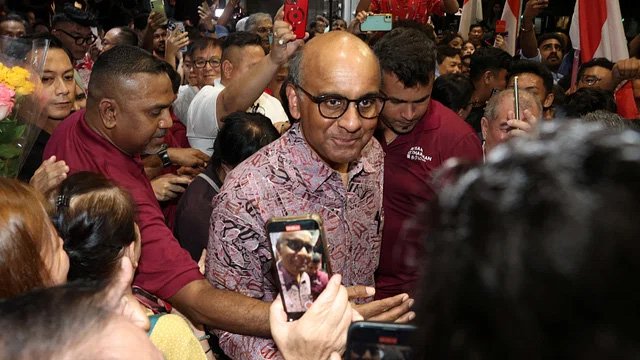 Singapore's former deputy prime minister Tharman Shanmugaratnam was elected president Friday, earning a landslide victory in the city-state's first contested vote for the largely ceremonial position in more than a decade.
Singaporeans headed to the polls that were closely watched as an indication of support for the ruling party after a rare spate of scandals, but the longtime stalwart of the party won more than two-thirds of the vote over two rivals, AFP reports.
"I believe that it's a vote of confidence in Singapore. It's a vote of optimism for a future in which we can progress together and support each other as Singaporeans," the former finance minister said in a speech before the results were announced.
"I'm humbled by this vote. It is not just a vote for me, it is a vote for Singapore's future."
He won 70.4 percent of the vote to win a six-year term.
His main rival Ng Kok Song, a former chief investment officer of Singapore sovereign wealth fund GIC, which manages the country's foreign reserves, conceded after winning only 15.7 percent of the vote.
"The result is clear," he told reporters, adding Shanmugaratnam "has indeed earned a mandate from the people of Singapore."
Shanmugaratnam acknowledged the "changing and evolving" nature of Singapore, notably its diversity, and said he believes the election was seen as "another milestone in that process of evolution."
There are stringent requirements for the position, which formally oversees the city's accumulated financial reserves and holds the power to veto certain measures and approve anti-graft probes.
While the presidency is a non-partisan post under the constitution, political lines had already been drawn ahead of the election to replace incumbent Halimah Yacob, who ran unopposed for her six-year term in 2017.