Dhaka should maintain balanced ties with Western countries, China, India for sake of economy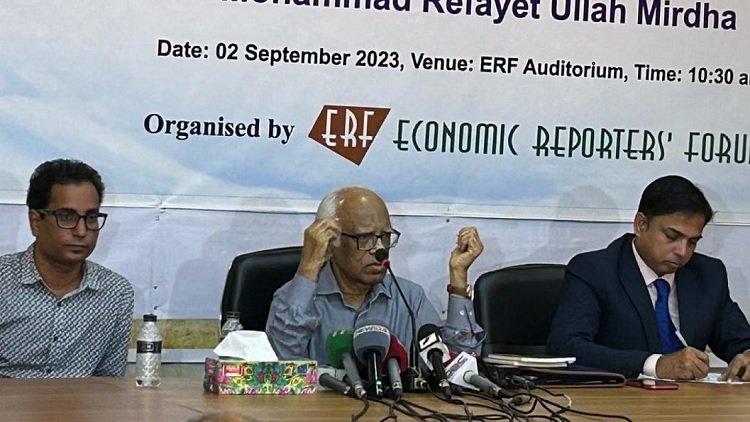 Country's renowned economist and former adviser to the caretaker government Dr Wahiduddin Mahmud on Saturday said that priority should be given now on how the poorer section in the country could lead their lives in comfort.
"Economic recession is going on all over the world. Bangladesh also faces various economic challenges. In such a situation, we should focus more on how the poor people can live comfortably instead of taking big infrastructure projects or vying for achieving higher growth in the country," he said, reports BSS.
The eminent economist was speaking at a discussion with the members of the Economic Reporters Forum (ERF) at its office in the capital on Saturday.
He said every country has to move forward keeping pace with time. "In such time of global financial crisis, the resources that we have should not only be used for big projects or become growth centric. Low and lower middle income people are suffering while strategies and programs of the government should be devised on priority basis to make their lives easier".
Mentioning that skilled human resources are most necessary for sustainable economic development, the veteran economist said that there is no example in the world for any country to have sustained development with physical infrastructures without having skilled human resources.
Rather, the war-ravaged Germany and Japan were able to turn around due to the skilled human resources despite the weak infrastructures, he said.
He noted that the lack of skilled human resources in Bangladesh is a major weakness of the country's economy.
"If we cannot create skilled human resources, we will not get the real benefits of the big physical infrastructures," he added.
Dr. Mahmud thinks that there is a need to analyze in depth whether the investment environment in the country is improving due to mega and big projects, how much the projects are export-oriented, or whether investors are getting services and land allocation easily.
He was a bit critical over some other economic policies including taking loans from any sources and implement projects, holding interest rates for a long time despite high inflation, not keeping open the exchange rate of foreign currency, and providing loans from foreign currency reserves.
Dr Mahmud said that interest rate, currency exchange rate, budget management, inflation control and overall and external economic balance should be integrated to create a transparent strategy paper.
"Failing to do so it can create distrust, which can be harmful to the economy," he added.
Wahiduddin Mahmud said that it does not matter to Bangladesh whether it gets or not get the membership of BRICS.
"There is no profit or loss for us. However, for the sake of the country's economy, it is important to have a balanced relationship with all countries including Western countries, China, India. That will be our strategy," he added.
The former adviser to the caretaker government said no matter which party remains in power, the country's interest should be considered in adopting such a strategy which would be beneficial for the country. Party interests should not get priority in any way.
He said if the businesses and traders take it for granted that the price of goods and commodities will continue to rise and then it would be difficult to control inflation.
Therefore, the government's policies and strategies should be more realistic, he observed.
Citing that inequality in society is increasing due to inflation, Dr Mahmud also said that currently the lower middle income people are suffering the most as they do not get the benefits of the programs that are available for low-income people.
He suggested adopting separate programs and policies for those groups.
The eminent economist thinks that economic journalism in Bangladesh has improved considerably over the last few years.
Dr Mahmud commented that economic journalists now acquiring the skills to analyze the day-to-day issues of the economy is very well.
Among others, ERF President Refayet Ullah Mirdha spoke on the occasion.