UK wants free, fair and peaceful election in Bangladesh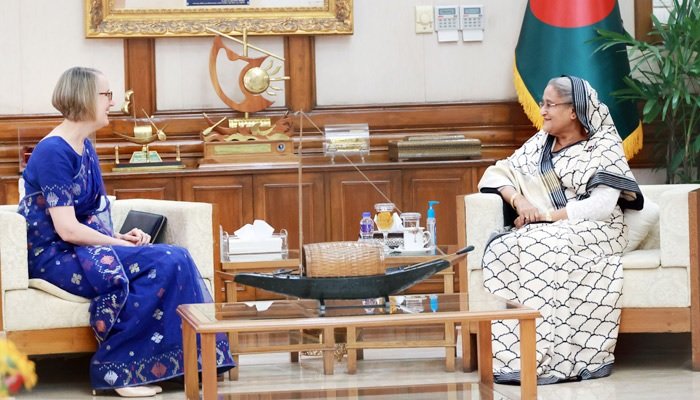 The United Kingdom wants a free, fair and peaceful election to be held in Bangladesh.
UK High Commissioner Sarah Cooke conveyed it to Prime Minister Sheikh Hasina while paying a courtesy call on her at her official Ganabhaban residence in Dhaka on Monday (August 14), PM's Press Secretary Ihsanul Karim quoted Cooke as saying during a media briefing after the meeting, reports BSS.
The UK envoy showed interest to enhance bilateral trade and investment with Bangladesh.
"The UK will continue its cooperation in Bangladesh's efforts for its overall development particularly in women education," Ihsanul Karim said.
According to Karim, Prime Minister Sheikh Hasina put stress on Rohingya repatriation at the meeting, saying, it would be better for Bangladesh as early as the Rohingya repatriation will take place.
"International community's due attention to the Rohingya issue will expedite the repatriation of the Myanmar nationals," she hoped.
The premier expressed caution that the prolonged stay of the Rohingyas could increase social problems in Coxsbazar region further.
The UK envoy said the Rohingya repatriation will be expedited if the issue remains on the international spotlight.
She focused on providing education to the Rohingyas and imparting them with skilled development trainings so they can be re-employed after returning to their homeland, Myanmar.
The meeting also featured various issues such as bilateral relations, security, climate change and regional matter.
The meeting expressed satisfaction over the existing bilateral relations between Bangladesh and the UK and hoped to consolidate the relationship further.
In this regard, the prime minister said she had to struggle for long 21 years for restoration of democracy in the country.
She said there were 19 attempts on her life including the worst one on August 21 in 2004 when 24 people including Awami League leader Ivy Rahman were killed and over 500 others injured.
Sheikh Hasina continued that the BNP-Jamaat celebrated their victory in 2001 through unleashing a reign of terror killing hundreds of people as well as raping and looting in the villages across the country.
"It is we who established freedom of expression and opened the media to the private sector," she said.
Expressing satisfaction at the Bangladesh-UK relationship on climate issue, the premier said the two countries signed a climate accord in March this year to further gear up climate action bilaterally and multilaterally.
PM's Ambassador-at-Large Mohammad Ziauddin and Principal Secretary Md Tofazzel Hossain Miah, among others, were present.