FBCCI's Jashim Uddin takes over as President of SAARC Chamber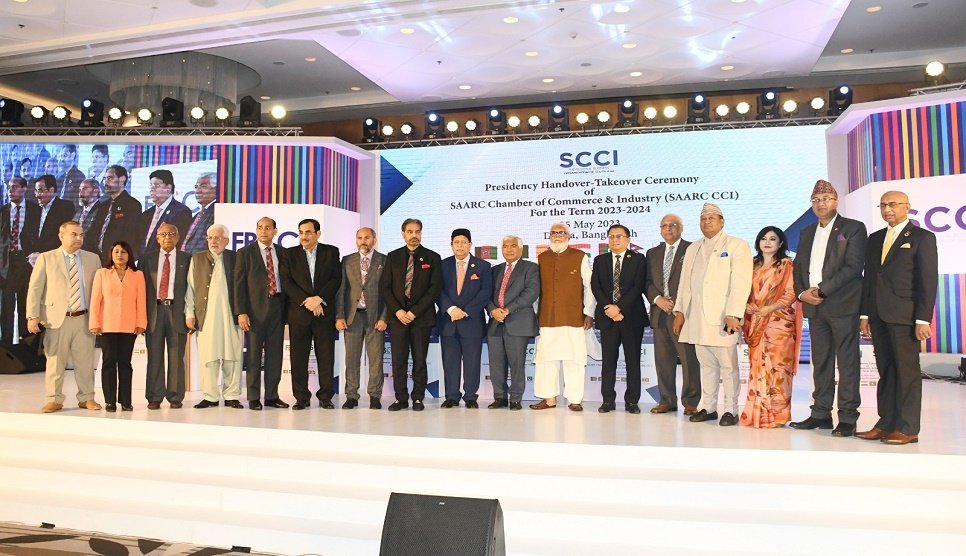 President of the Federation of Bangladesh Chamber of Commerce and Industry (FBCCI) Md. Jashim Uddin took charge as the president of the SAARC Chamber of Commerce and Industry (SCCI), the apex trade body of the South Asian region, at the Hotel Intercontinental in Dhaka on Thursday.
He will be serving as the SAARC Chamber president in 2023–24.
The new president said that South Asia with its diversified resources and skilled workforce has tremendous potential to be the fastest-growing exporting region to the world.
"As we begin this new tenure, our region is experiencing rapid economic growth, but we must also confront a range of complex issues and barriers to trade that limits cross-border regional trade," he said.
The Intra-trade among SAARC countries continues to be low ranging between 5-7% of total trade. In addition, this is declining every year, he said.
The priority will be given to enhance collaboration on sectors with high growth potential such as information technology, manufacturing, energy, tourism, and agribusiness that derive tangible results, he added.
Jashim Uddin joined the Board of Bengal Group of Industries as director in 1983 while studying commerce at the Dhaka University.
He is the chairman of Bengal Commercial Bank Limited, vice-chairman of the Bengal Group of Industries and Bengal Media Corporation.
He is also the president of the Bangladesh Plastic Goods Manufacturers and Exporters Association.