PM Sheikh Hasina says next national polls will be free, fair under her govt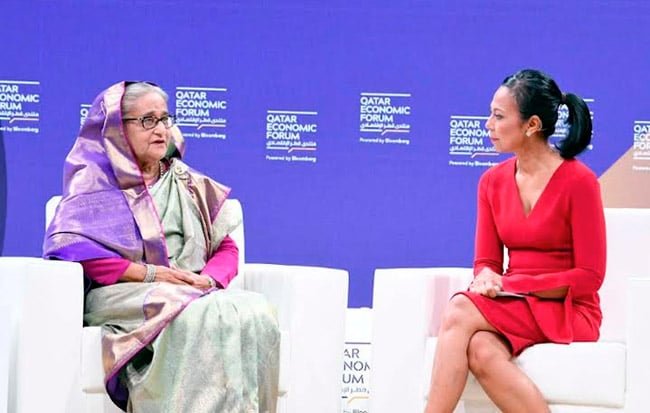 DOHA, (QATAR) – Prime Minister Sheikh Hasina today said the next general election in Bangladesh will be held in a free and fair manner upholding democracy and voting rights of the people.
"So, under our government, definitely election will be free and fair," she told a session titled "In conversation with Prime Minister Sheikh Hasina" at the Qatar Economic Forum (QEF) at the Raffles Hotel here.
Haslinda Amin, host and Editor at-large of QEF anchored the session in a jam-packed audience hall room at the venue.
Sheikh Hasina said, "So, I'm here to ensure our people's voting right?"
"People should decide who will run the country. It is people's power. So, I want to ensure people's power," she said.
She continued: "I'm here for not grabbing power, rather I want to empower the people to have their right so they can choose their government."
Mentioning about some parties' unwillingness to participate in polls, the premier said: "How they can participate because during their time, the country suffered a lot… "Our people suffered and at that time (during the regime of BNP) the terror activities increased, everywhere there was corruption, nepotism, exploitation. They never bother for people."
"It was very difficult for our people to get one meal in a day. That was their situation," she added.
Sheik Hasina, also the President of Awami League, said that when her party came back to power, they ensured everything for people. "So, now election, it is people's right. . . ."
"Now, people understand. If they vote for us, I will here…," she said.
The premier said "Just think about the US president election, Mr. Trump still didn't accept the result. What they can say now?"
She said that they've already asked everybody, whoever wants to send (observers) – "If they want to send observer, they can do it."
"So, I can tell you that I am here to ensure my people's democratic rights, voting rights. And it is our struggle," she added.