Fire that killed 19 in Guyana school dorm may have been set 'maliciously'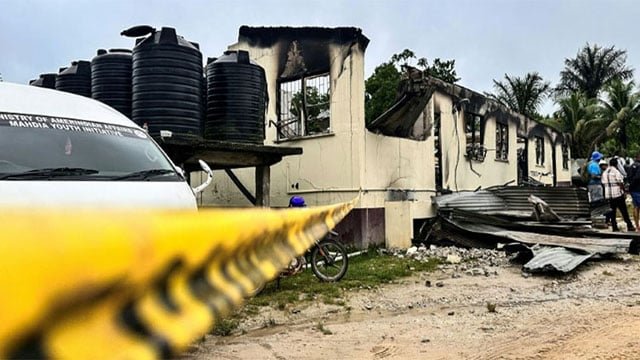 The fire at a schoolgirls' dormitory that killed 19 people in Guyana may have been started "maliciously," police said Monday, as anger grew in the small South American country the day after the blaze.
Sunday's inferno gutted a building housing girls aged 11-12 and 16-17.
Guyana Police Commissioner Clifton Hicken said during a press conference Monday afternoon that an "initial investigation suggests… that (the fire) was maliciously set."
"Our investigation is continuing," Hicken told reporters, joined by President Irfaan Ali, who declared three days of national mourning.
No suspects have yet been identified, Hicken added, though he told AFP he expects to have more information in the next 48 hours.
"Fourteen youths died at the scene, while five died at the Mahdia District Hospital," according to a statement from the fire department.
The government had previously said 20 people died in the blaze at the Mahdia Secondary School in the central part of the country.
Guyana, with a population of 800,000, is South America's only English-speaking nation. It is a former Dutch and British colony which recently discovered it holds the world's largest per capita oil reserves.
After the weekend tragedy, more than a dozen children received hospital treatment locally while six serious cases were airlifted to the capital Georgetown.
"Two children remain in critical condition, while four are nursing severe injuries as a result of the incident," added the fire brigade.
There were 63 pupils inside the building when the fire broke out.
"This is a major disaster. It is horrible, it is painful," Ali said on Sunday night.
Ali said he had ordered arrangements to be made in Georgetown's two major hospitals "so that every single child who requires attention be given the best possible opportunity to get that attention."
At Monday's press conference Hicken said autopsies had already been performed on the bodies of at least six of the victims, and that all of them would undergo DNA testing.
– 'Pain, agony, trauma' –
Around 50 relatives and friends of the victims demonstrated on Monday in Chenapau, a village close to Mahdia that is home to many of the school's pupils.
"The sheer pain, the agony, the trauma," Michael McGarrell, who lost two nieces in the blaze, told AFP by telephone. "Who will be held responsible?"
Protesters held up banners demanding justice and compensation, and criticizing the fact that the dormitory had barred windows.
"Why are school children grilled up in death traps? What are we going to tell the parents?" said McGarrell, an activist with the Amerindian People's Association (APA) that is often at odds with the government over land rights.
"Firefighters did manage to rescue some 20 students by breaking holes in the north-eastern wall of the building," the fire service said.
Private and military planes have been sent to Mahdia, located about 200 kilometers (125 miles) south of Georgetown, as the region is affected by heavy rains.
At least one plane with three evacuees arrived back in Georgetown, according to an AFP journalist.
The government said officials were supporting efforts at Ogle airport in the capital to "receive the critical patients and coordinate an emergency plan of action."
"A full-scale medical emergency action plan has been launched," it added.
Natasha Singh-Lewis, an opposition MP, called for an investigation into the fire's cause.
"We need to understand how this most horrific and deadly incident occurred and take all necessary measures to prevent such a tragedy from happening again," she said.
Among the poorest nations in South America, Guyana hopes the discovery of oil will help spur development. The country also boasts the second-highest percentage of forest cover on earth.