1,300 sued over BNP-police clash in Khulna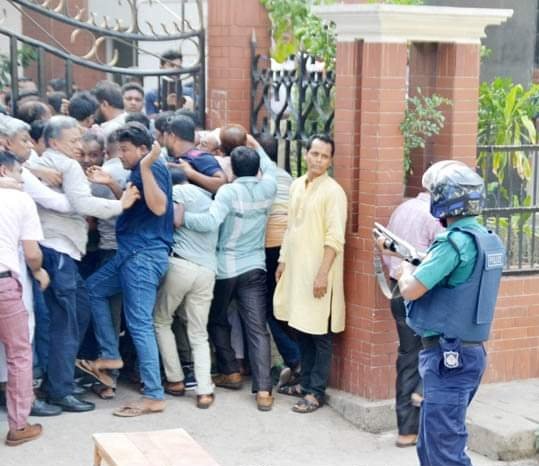 A case has been filed against 1, 300 people in connection with the clash between BNP men and police during the party's countrywide protest programme  in Khulna city on Friday.
Officer-in-Charge of Khulna Sadar Police Station Hasan Al Mamun told our the Daily Observer correspondent  that Sub-Inspector Khalid Uddin as a plaintiff filed the case on Friday night with Khulna Sadar Police Station against 1,200 to 1,300 unidentified people, including 48 leaders and activists of BNP.
He said 13 people were arrested so far in this connection.
The arrestees are—Sihel Rana, 20, Gazi Salauddin, 42, Md Ataur Rahman, 48, Rabbi Chaudhury, 29, Md Sekander Sheikh, 60, Md Shaikhul Molla, 34, Md Wahid Sheikh, 32, Rd Rasel, Mahbub Gzai, 26, Moniruzzaman Mamun, 42, Md Raju Sheikh, Md Alif Milon, 31, and Md Russel, 27.
Meanwhile, at least 30 people, including police personnel, were injured in a clash between the law enforcers and BNP supporters over holding a pre- scheduled rally of the party in front of Khulna Press Club in the city on Friday afternoon to press home their 10-point demand, including resignation of the government.
A party insider said the violence erupted in Khulna Press Club and adjacent areas around 4pm when BNP men were gathering there to join a party programme and police obstructed them.
Khulna Metropolitan Unit BNP member secretary Shafiqul Islam Tuhin, however, claimed that at least 20 leaders and activists of their party were injured in the police attack.
Several party men, including their leaders Mujibur Rahman and Jahidul Rahman also sustained bullet injuries, and 13 BNP men were detained from the rally venue, he said.