Dhaka declines to offer '5th freedom' to UAE airlines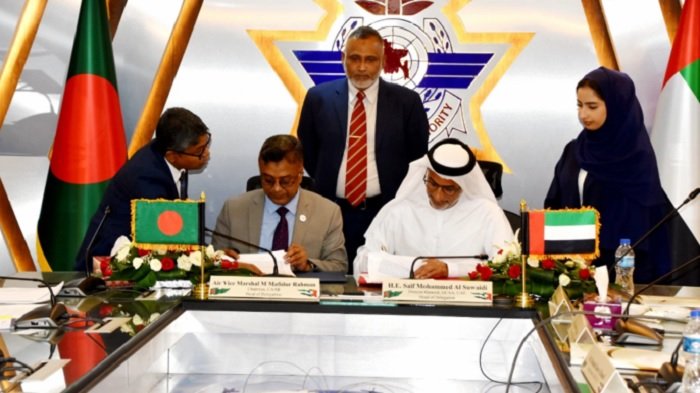 The Civil Aviation Authority of Bangladesh (CAAB) has declined a proposal for a 'fifth freedom' right to airlines of the United Arab Emirates (UAE).
The decision was made during a two-day discussion on bilateral aviation between Bangladesh and the UAE that was concluded on Wednesday at the CAAB head office in Dhaka.
During the talks, four UAE airlines – Emirates, Etihad, Fly Dubai, and Air Arabia – proposed to increase their air traffic to Bangladesh and to get 'fifth freedom' rights on various routes.
The 'fifth freedom' allows an airline the right to carry passengers from one's own country to a second country, and from that country onward to a third country and so on.
During the talks the four UAE airlines sought the right to operate flights from Bangladesh to third countries. If they get permission, the airlines could transport passengers and goods from Bangladesh to other countries.
However, Dhaka declined the proposal expressing apprehension that such a right may hinder the growth of local carriers.
The two sides also decided to remain the flight frequency between different destinations of Bangladesh and the UAE unchanged as construction work of the 3rd terminal at Hazrat Shahjalal International Airport is underway.
The meeting decided in principle to operate flights between Bangladesh and the UAE's Fujairah state as per the capacity of the airports.
Director General of the UAE's General Civil Aviation Authority (GCAA) Saif Mohammed Al Suwaidi, who led the 22-member UAE delegation, assured technical and consultancy cooperation for the development of Bangladesh's aviation industry, especially in airport management.
CAAB Chairman Air Vice Marshal M Mafidur Rahman presided over the talk.
The UAE delegation was also comprised of senior officials of Civil Aviation Authorities of Dubai, Sharjah, Ras Al-Khaimah and Fujairah and representatives of various airlines of UAE.
Senior officials of the Ministry of Civil Aviation and Tourism, CAAB, and representatives of various local carriers attended the talks on the Bangladesh side.