Not foreigners, people to decide who will come to power: Quader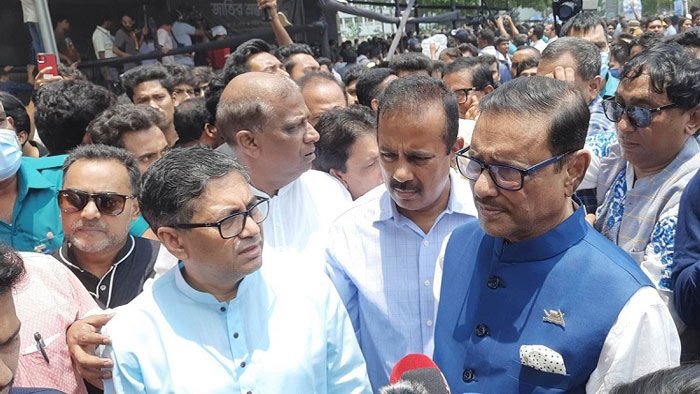 Awami League General Secretary and Road Transport and Bridges Minister Obaidul Quader on Tuesday said the people will decide who will come to power, not the foreigners.
"The people will decide who will rule the country as we believe in people's power," he said while talking to journalists after paying tributes to the noted actor, valiant freedom fighter, and lawmaker Akbar Hossain Pathan alias Farooque at the Central Shahid Minar in the capital.
Sheikh Hasina herself said we want to come to power in accordance with the mandate of the people, said Quader, adding, "If the people want, then we will come to the power, otherwise not.
"So, there is no reason that she [Sheikh Hasina] has any fear of the foreigners or the local conspirators."
Ruling out a concept that overseas power will help come to power, he said the Awami League never think such impossible things, as the country's owner is not the foreigners, it is the people.
Responding to a query on the claim made by Mirza Fakhrul that the government is agitated because of the Western countries and concerned about losing power, the minister said, "BNP leader Mirza Fakhrul have a belief that the Western countries would help him, and his party BNP to come to the power.
"As a result, the BNP leaders are frequently lobbying with their foreign allies, lodging complaints and also appointing lobbyists in this regard. But the Awami League has no connection with such matters. Even Prime Minister Sheikh Hasina has no lobbyists who will help us come to power."
Earlier on the day, Awami League General Secretary Obaidul Quader, accompanied by other party leaders, paid homage to film actor Farooque at the Central Shahid Minar.
Awami League Organising Secretary Sujit Roy Nandi, Office Secretary Biplob Barua, Science and Technology Affairs Secretary Abdus Saboor and Deputy Office Secretary Sayem Khan were present there among others.