Mauritius President visits Liberation War Museum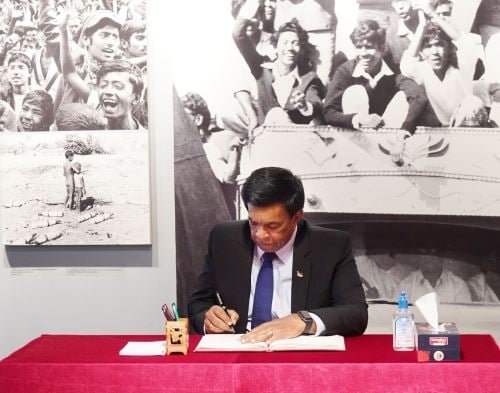 Visiting Mauritius President Prithvirajsing Roopun on Friday visited Liberation War Museum in the city's Agargaon area.
Prithvirajsing Roopun along with his wife Sayukta Roopun and entourage reached the museum premises at 11.45 pm.
Former Cultural Affairs Minister and noted cultural personality Asaduzzaman Noor, Liberation War Museum Trustee Dr Sarwar Ali, Trustee and Member-Secretary Sara Zaker and senior officials of the museum welcomed the Mauritius President. Foreign Ministry officials were also present on the occasion.
The Mauritius President paid tributes to memories of 1971 Liberation War martyrs by placing wreath at 'Shikha Chiro Omlan' (the eternal flame lighted in memory of the martyrs of 1971).
During his 50-minute stay, he signed the visitors' book kept there after paying tributes.
"I am feeling glad to get the opportunity to visit the Liberation War Museum situated in Dhaka, Bangladesh. I believe the sacrifice of Bangalee nation for their language and independence will encourage the people all over the world in the struggle for independence and democracy," the Mauritius President wrote in the book.
He described the Liberation War Museum as a symbol of the Bangalee nation's struggle, sacrifice and firm leadership of Father of the Nation Bangabandhu Sheikh Mujibur Rahman.
The Mauritius President arrived in Dhaka on Thursday on a four-day official visit to join the 'Sixth Indian Ocean Conference 2023' hosted by Bangladesh as well as bilateral programmes.