Charles III officially crowned King in first UK coronation since 1953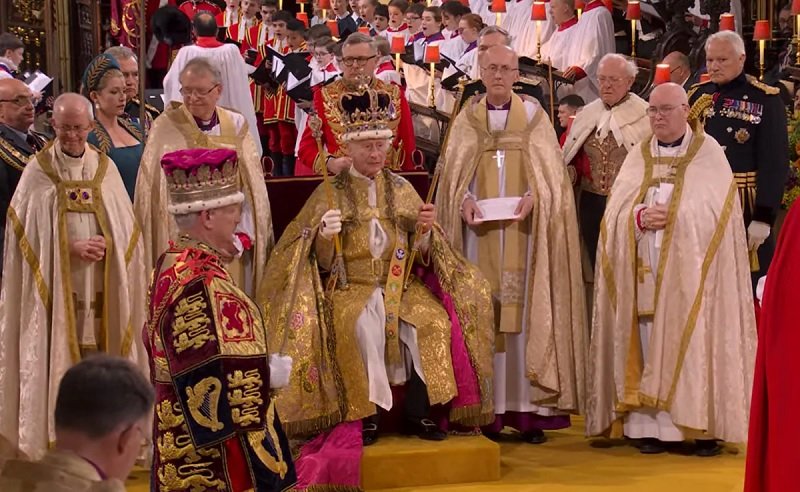 The Archbishop of Canterbury crowned King Charles in a lavish coronation ceremony in London on Saturday, placing the 360-year-old St Edward's Crown on the monarch's head as he sat upon a 14th century throne in Westminster Abbey, report Reuters, AP, AFP.
Charles, who succeeded his mother when she died last September, was earlier presented with an array of historical regalia from golden orbs and bejewelled swords to a sceptre holding the world's largest colourless cut diamond.
King Charles III and Camilla, the queen consort, travelled from Buckingham Palace to Westminster Abbey in the gilded Diamond Jubilee Coach.
They were escorted by the Sovereign's Escort, comprising of about 160 soldiers on horseback. The Household Cavalry Mounted Band is leading the military procession.
It's a much smaller procession than the one planned for the return route from the abbey, when some 4,000 troops will feature in a spectacular display of pageantry.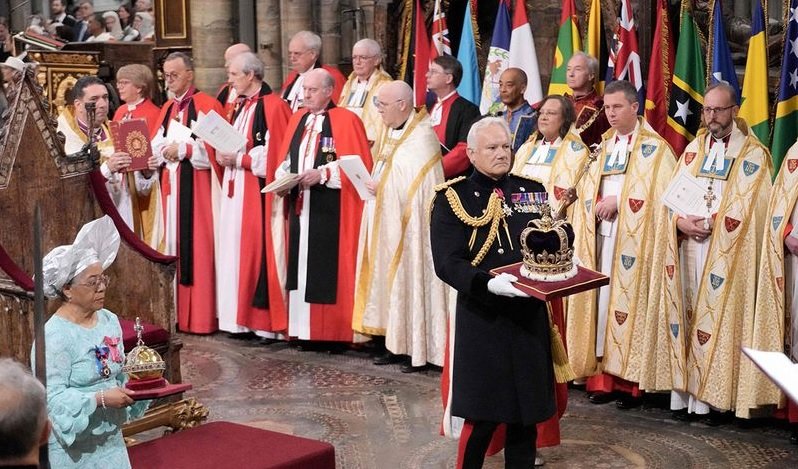 The state coach Charles and Camilla are travelling in was created in 2012 to commemorate Queen Elizabeth II's 60th year on the throne. The procession will take about half an hour.
The coronation is the first of a king since 1937 and only the second to be televised, for the first time in colour. It is also being streamed online.
It will see the St Edward's Crown — a solid gold, sacred symbol of the monarch's authority used only once in the reign — placed on Charles's head at 1100 GMT to cries of "God Save the King".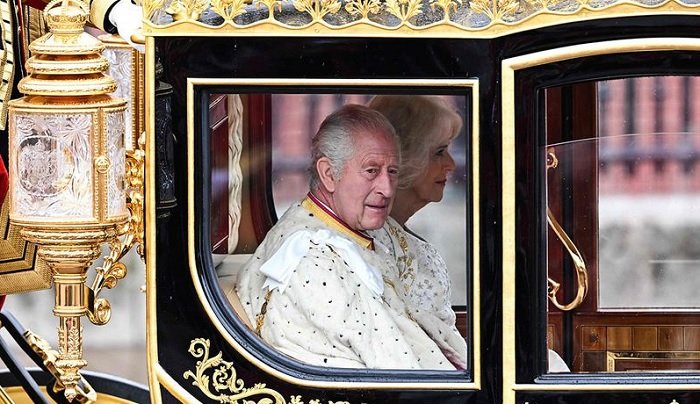 Trumpet fanfares will sound through Westminster Abbey and ceremonial gun salutes will blast out across land and sea to mark the first coronation of a British monarch since 1953 — and only the fifth since 1838.
Bells will peal in celebration at churches across the land, before liveried soldiers on foot and horseback stage a 7,000-strong military parade stretching through the streets of the capital.
Much of the two-hour Anglican service, led by the Archbishop of Canterbury Justin Welby, would be recognisable to the 39 other monarchs crowned at Westminster Abbey since 1066.