Cyclone 'Mocha' likely to form in Bay of Bengal by May 9, says IMD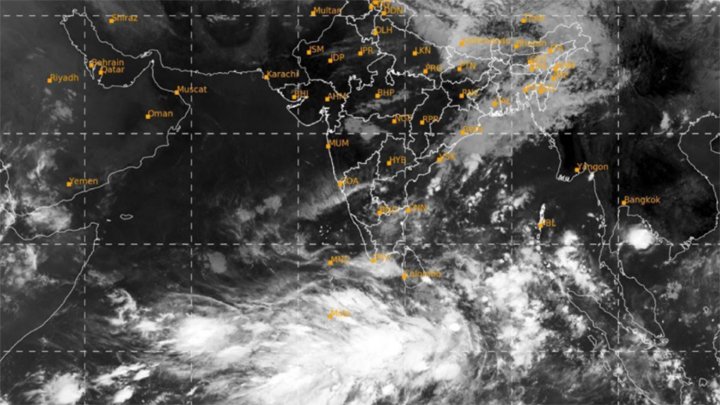 The India Meteorological Department (IMD) has said that the summer cyclone will likely occur in the Bay of Bengal around May 9.
IMD Director General Mrutunjay Mohapatra said the guidance of numerical models indicates the formation of a cyclonic storm around May 9, but its movement and intensification may be determined after the low-pressure area forms on May 7.
Cyclone Mocha landfall
Under its influence, a low-pressure area will likely to form over the same region around May 7. It will probably concentrate into a depression over Southeast Bay of Bengal on May 8.
"Thereafter, it is likely to intensify into a cyclonic storm while moving nearly northwards towards central Bay of Bengal. The cyclonic storm may take shape around May 9," the official said.
According to IMD, Cyclone Mocha is expected to make landfall on the eastern coast of the country between May 7 and May 9, India Times reports.
The IMD further said that the model is indicating north-northwestwards movement till May 10 and northeastwards re-curvature thereafter towards southeast Bangladesh and adjoining Myanmar coasts.
IMD issues warning for fishermen
Given the likelihood of the formation of a cyclonic storm, the IMD has warned fishermen not to venture into the southeast Bay of Bengal and adjoining areas from Sunday onwards.
"Fishermen, small ships, boats and trawlers are advised not to venture into southeast Bay of Bengal and adjoining areas from May 7 onwards and into adjoining central BoB from May 9 onwards", said HR Biswas, Head & Scientist, MeT Centre, Bhubaneswar.
In association with the likely formation of a cyclonic storm, squally weather with wind speed reaching 40 to 50 kmph gusting to 60 kmph is likely to prevail over the southeast BoB and adjoining areas of Andaman sea from May 7 and wind speed will gradually increase further over the areas, he said.
Regarding information for tourist and travellers for Andaman and Nicobar Islands, the IMD said that bad weather condition like squally weather and heavy rainfall activity is likely over Andaman and Nicobar Islands during May 8-11 and advised to regulate tourism and offshore activities and shipping over Andaman and Nicobar Islands during May 8-11.
This will be the fourth summer cyclone in the Bay of Bengal in recent years.
In 2019 Cyclone Fani was the first summer cyclone to hit Odisha in decades. The extremely severe cyclonic storm that originated from a tropical depression on 26 April made landfall on May 3 on the Odisha coast.
Since then, the eastern coast has been hit by summer cyclones – Amphan and Yaas – in May 2020 and 2021, respectively.