National Conference 2023: Sexual and Reproductive Health and Rights in Bangladesh held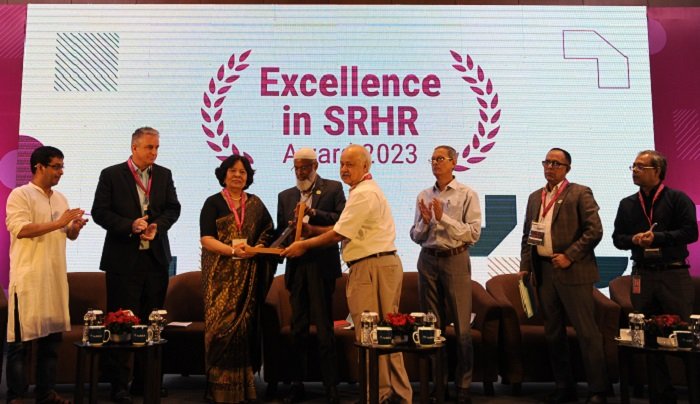 The National Conference 2023: Sexual and Reproductive Health and Rights in Bangladesh (NCSRHR2023) showcasing research through Ideas, Ingenuity, and Innovations (NCSRHR2023) was held at the InterContinental Dhaka on May 3, 2023.
The conference was organised by Advancing Sexual and Reproductive Health (AdSEARCH) by icddr,b and was a huge success with over 300 attendees including, researchers, policymakers, government high officials, representatives from UN agencies, and INGO.
'Excellence in SRHR Award 2023' was presented to three outstanding individuals in recognition of their lifetime achievements and contributions to the field of SRHR in Bangladesh. Professor A H M Touhidul Anowar Chowdhury, national professor Shahla Khatun, and Dr Halida Hanum Akter were the recipients of this award.
In addition, seven best abstracts and three innovations concepts, were awarded. Attendees also had the opportunity to visit the innovation and evidence hub where they could learn about new and innovative ideas on SRHR.
The conference featured keynote presentations by prominent experts including Ashrafun Nessa, Professor, Bangabandhu Sheikh Mujib Medical University on Cervical Cancer; Syed Rubayet, Country Director, Ipas Bangladesh on Family Planning; Syeba Akhter, Professor & CEO, MAMM's Institute of Fistula & Women's Health on Fistula; and Md. Sharful Islam Khan, Head of Programme for HIV and AIDS, icddr,b on Key Populations.
The 2nd scientific session on SRHR innovation was chaired by Yasmin H Ahmed, Independent Consultant and Advisor, Bangladesh Health Watch. Anir Chowdhury, Policy Advisor, Aspire to Innovate (a2i), ICT Division; Vibhavendra Raghuvanshi, Chief, UNFPA Bangladesh; Dipika Paul, Senior Advisor, Research Monitoring and Evaluation, Ipas Bangladesh; Arnob Chakraborty, Project Director, Share-Net Bangladesh presented their papers at the session.
Md. Anwar Hossain Howlader, Secretary, Health Service Division (HSD), Ministry of Health and Family Welfare graced the occasion as the chief guest, while Joe Goodings, Head of Development Cooperation, High Commission of Canada, Dhaka, Md. Saidur Rahman, Additional Secretary, Health Service Division (HSD) Admin Wing & World Health (WH) Wing, Ministry of Health and Family Welfare, and Md. Shafiqul Islam, Director General, of the National Institute of Population Research and Training (NIPORT) was present as special guests.
The conference provided a platform for sharing knowledge, ideas, and best practices among experts, researchers, and practitioners working in this critical field. AdSEARCH by icddr,b is supported by Global Affairs Canada (GAC), which aims to generate high-quality evidence and innovation on SRHR. More information can be found at http://adsearch.icddrb.org
Winners of the best abstract at NCSRHR2023
Top innovations
1. Farhana Sultana (icddr,b)
Feasibility trial of a model menstrual health and hygiene (MHH) interventions to create an enabling environment at scale in the health systems in Bangladesh
2. Sahar Raza (icddr,b)
The "push" to stop unnecessary C-section by taking control of Labour pain: TENtrol Study
3. Nabeel Mohammed (North South University)
Meno-Chat: An Assistive Chatbot Against Menstrual Problems and Menopause Health for Women
Top abstracts
1. Fariya Rahman (icddr,b)
Menstrual Regulation Service: A success story to address inequity built over the years in Bangladesh
2. Tashfiha Nusrat Ruhi (icddr,b)
Understanding the Interconnected Factors Driving Unintended Pregnancies among Female Garment Workers in Bangladesh: A Socio- Ecological Perspective
3. Md. Shahriar Mahbub (Bangladesh University of Health Sciences)
Violence against Children and its Associated Factors in an Urban Area of Dhaka, Bangladesh
Other abstracts receiving funds
1. Md. Lutful Kader (icddr,b)
Temporal dynamics in the prevalence, inequalities and determinants of unintended pregnancy in Bangladesh, 1994-2018: a population-based study
2. Sezanur Rahman (icddr,b)
High genotypic diversity of human papillomavirus among transgender women and sex workers in Bangladesh: impact on vaccination strategies
3. Mehjabin Tishan Mahfuz (icddr,b)
Menstrual Knowledge and practices of Bangladeshi female adolescent athletes: A baseline study
4. Syed Sharaf Ahmed Chowdhury (North South University)
Socioeconomic and Geographic Inequalities in using Skilled Birth Attendants in Bangladesh over two decades.