Khaleda Zia under close observation at Evercare, says her physician Zahid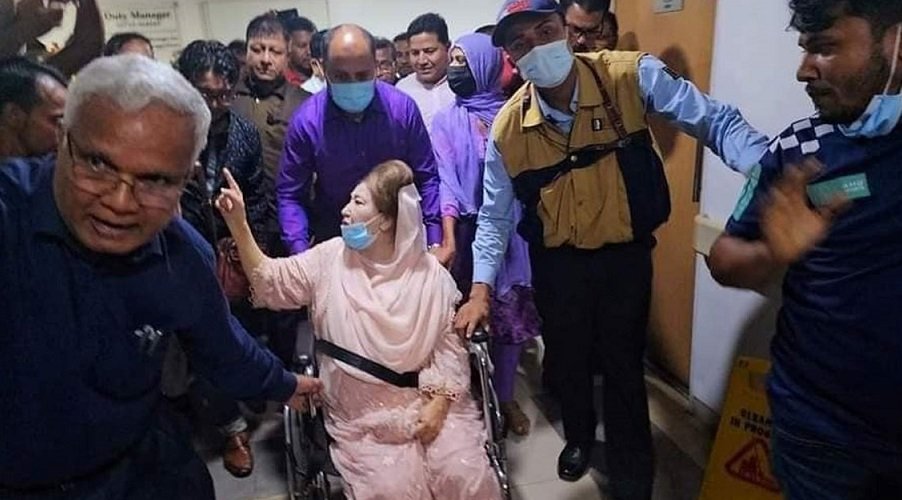 BNP Chairperson Khaleda Zia has been kept under close observation of physicians in a cabin at Evercare Hospital in the capital for various ailments, said her personal physician Professor Dr AZM Zahid Hossain.
"Madam (Khaleda) is under close observation and supervision of doctors in a cabin. Her condition has improved a little as she has been given treatment as per the advice of her medical board," he said.
Earlier on Saturday night, the BNP chief was admitted to Evercare Hospital for some medical tests and required treatment.
Since her conditional release in 2020, the BNP chief has been receiving treatment at the hospital under a medical board headed by cardiologist Prof Shahabuddin Talukder.
Dr Zahid said the medical board had a meeting on Saturday night following Khaleda's admission to the hospital and they suggested various medical tests.
"We've already got the reports of some tests and the medical board will sit this (Sunday) evening again to review the reports and decide the next course of her treatment. The medical board gave her initial treatment after observing her condition yesterday (Saturday)," he said.
Zahid said some members of the medical board examined her physical condition also in the morning.
About the reason behind her admission to the hospital, he said the BNP chief's health check-ups and treatment were necessary as some new symptoms appeared along with her previous diseases.
"It is not right to talk about the patient's illness in the media. I can only say she has been suffering from various diseases, including heart, liver, and kidney complications… some of them have deteriorated a little. That's why she's admitted to the hospital for check-ups and treatment," the physician said.
Dr Zahid said specialist doctors and nurses have been properly taking care of Khaleda in the cabin.
Asked how long Khaleda can stay in the hospital, he said, "It will depend on the decision of the medical board and her physical condition. So nothing can be said at this moment."
Apart from local doctors, Zahid said some physicians from the USA and Australia and Khaleda's daughter-in-law Dr Zubaida Rahman are there in the medical board.
Khaleda's another daughter-in-law and her late son Arafat Rahman Koko's wife Sharmila Rahman Shinthi has also been staying with her at the hospital.
Khaleda, a 77-year-old former prime minister, has been suffering from various ailments, including liver cirrhosis, arthritis, diabetes, and kidney, lung, heart, and eye problems.
She visited the same hospital for health check-ups on February 27 last. Khaleda received treatment at the hospital six times since she was infected with Coronavirus in April 2021.
In November 2021, Khaleda Zia was diagnosed with liver cirrhosis.
On June 10 last, the BNP chief suffered a heart attack due to a 95 percent block in her left artery, and a stent was placed there by removing the blockage at the same hospital the following day.
Doctors also found two more blocks in her blood vessels, but they could not remove those due to her health complications.