Two Japanese tourists robbed in Dhaka, three arrested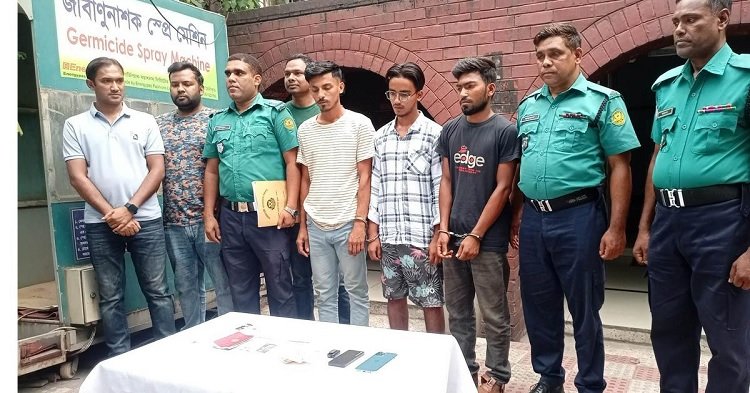 Two Japanese tourists have been robbed off by a group of muggers at an isolated place at a grave adjacent to Rayer Bazar Martyred Intellectual Memorial under Mohammadpur Police Station in the capital.
The incident happened at about 9:00pm on April 24 last. A case was filed with Mohammadpur Police Station on the following day.
Later, police arrested one mugger from Mohammadpur and two others from Sitakunda in Chittagong according to the information divulged by the arrested person.
Deputy Commissioner HM Azimul Huq of Tejgaon Division of Dhaka Metropolitan Police (DMP) stated it at a press conference held at his office in the capital on Friday (April 28, 2023) afternoon.
He said analysing the footage of closed-circuit television (CCTV) of the entire area, Khairul Islam Shopon was arrested from Boatghat in Mohammadpur on Thursday. Later, according to his information, Jihadul Islam Mamun and Abu Rasel Prottoy were arrested from Sitakunda.
Azimul Huq said the Japanese nationals came out of the graveyard at about 9:00pm. At that time, they asked for direction from the arrested youths. Instead of showing them direction, they misguided them and took them deep inside the graveyard. At one stage, they forced the Japanese nationals to give them their passports, 1,53,800 Japanese yen, Bangladesh Taka 28,000, two iPhones, two credit cards, identity cards, driving licences, health cards, one portable hotspot and a bluetooth.
Following the arrest of Khairul Islam Shopon, the police official said they recovered identity cards, driving licences, health cards, two credit cards and a torn Japanese passport from a ground adjacent to the graveyard wall.
"In the meantime, we have learnt that the rest two muggers invoolved in the mugging went Cox's Bazar for pleasure trip. Instantly, a team was sent to Cox's Bazar by a plane of Biman Bangladesh Airlines. The team members learnt that the two muggers were staying at Sitakunda. Fearing that the muggers could change their location at any moment, the team members were asked to go to Sitakunda," he said.
"Later, Jihadul Islam Mamun and Abu Rasel Prottoy were arrested from Sitakunda. At that time, one mugged iPhone, 30,000 Japanese yen, one portable hotspot and a bluetooth were seized from their possession during their arrest," the DC said.
Azimul Huq said both Mamun and Prottoy went Cox's Bazar to avail their pleasure trip with the mugged 90,000 yen and other goods. They exchanged most of the yen after going to Cox's Bazar. After visiting Cox's Bazar, they went Sitakunda to see a waterfall there. At that time, a police team arrested them.
He said there are three cases including a case with Speedy Trial Tribunal against arrested Abu Rasel Prottoy. Besides, drives are going on to arrest the other accused and recover the looted goods.
DC Azimul Huq said the two Japanese tourists went to Rayer Bazar Martyred Intellectual Graveyard at night without the help of anyone. "Talking with them, we have understood that they went there anticipating the existence of Buddhist replicas there
A Japanese national present at the press conference lauded the Bangladesh police saying that they acted very quickly and arrested the accused after recording the case with Mohammadpur Police Station.