AL will resist election disruptors: Quader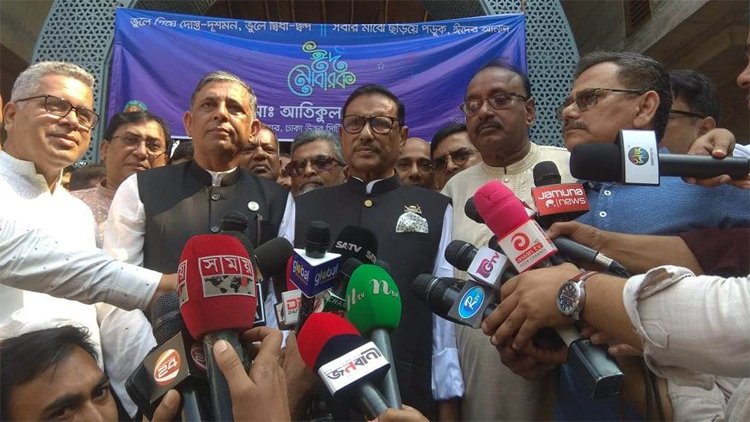 Road Transport and Bridges Minister Obaidul Quader has said that Awami League  (AL) will resist those who will try to obstruct in holding the free, fair and peaceful election.
Quader, also the general secretary of Awami League, said AL wants a participatory and peaceful election and to resist all kinds of obstructions party members will remain in the field.
He told this to media after placing wreath on the grave of Sheikh Jamal to mark his 70th birthday at Banani graveyard in the capital on Friday morning.
Jamal, the second son of father of the nation Bangabandhu Sheikh Mujibur Rahman, was killed during the August 15 massacre in 1975.
Denying the allegation that AL held programmes to counter BNP's movement, Quader said they held the peace rallies only to protect the people of the country from the terrorism and ill motives of BNP-Jamaat men.
He said AL will be on the streets till next general election to ensure no disruption occurs. He also called upon mass people and party activists to join their peace movement for building resistance against militancy and defeat them.
He said the killing of  Bangabandhu Sheikh Mujibur Rahman and his  family members in 1975 was the most brutal murder in the history of human civilisation.
In continuation of the same conspiracy, killings were carried out on November 3, 1975 and August 21, 2004. These events are linked together, he said.
Quader said democracy should be institutionalized instead of the politics of murder, conspiracy and betrayal. Under the leadership of Prime Minister Sheikh Hasina democracy will be established in Bangladesh and the dreams of Bangabandhu's golden Bangla will be fulfilled.
Awami League Joint General Secretary Hasan Mahmud, AFM Bahauddin Nasim, Organiging Secretary Ahmed Hosen were present, among others.