Md Shahabuddin takes oath as 22nd president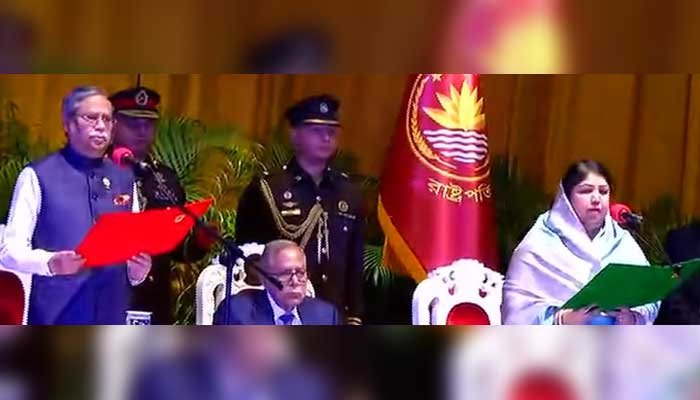 Md Sahabuddin has took oath as the 22nd President of Bangladesh.
The oath-taking ceremony held in Historic Durbar Hall of the Bangabhaban at about 11am. Jatiya Sangsad (Parliament) Speaker Dr Shirin Sharmin Chaudhury administered the oath.
Prime Minister Sheikh Hasina, cabinet members and hundreds of distinguished guests attended the event. Cabinet Secretary Md Mahbub Hossain conducted the program.
Earlier, wearing a black Mujib coat and a white panjabi, new President Sahabuddin, along with outgoing president Abdul Hamid and the Speaker entered the Durbar Hall at 10:55am.
A military band played ceremonial music at that time.
After the swearing-in ceremony, new President Md Sahabuddin and outgoing president M Abdul Hamid officially alter their respective seats as part of changing charge of the office.
Subsequently, President Sahabuddin and Speaker Dr Shirin Sharmin Chaudhury signed the oath documents of the office.
The President exchanged greetings with guests after he was sworn in.
President Sahabuddin's family members, including his wife Dr. Rebecca Sultana and son Arshad Adnan Rony while outgoing President Hamid's family members, including his wife Rashida Khanam and son Engineer Rezwan Ahammad Taufiq, MP, among others, attended the function.