Karim Foundation Trust donates cash money to more than 100 families 
Mirror Desk :
Karim Foundation Trust has donated seven lak taka to more than 100 families of Kishorpur, Nuapara and Mujahidpur villages of Pailgaon Union of Jagannathpur Upozila. The trust has donated 7000 taka to each family on the occasion of Eid. The trustees donated this money to poor and destitute families at Trustee's house in Kishorpur. A discussion meeting took place following the donation programme where the local UP member and current ad-hoc chairman Shahan Ahmed presided over.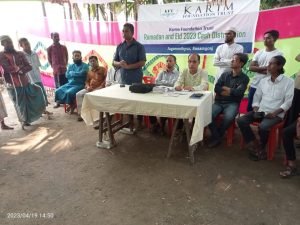 Joint General Secretary of Sylhet Press Club and the Senior Reporter of Daily Sylheter Dak Poet Ahmad Salim attended the event as Chief Guest, where special guests were Senior Reporter of Daily Sylheter Dak Anas Habib Kolins and member of Jagannathpur Press Club and News Editor of Jagannathpur24.com Ali Ahmed.
Senior Reporter of Daily Sylheter Dak and Sylhet Representative of Bangla Mirror Group Enamul Haque Renu presented the discussion programme. Md Ridoy Mia recited from Quran at the starting of the event where Md Nurman Hossain Emon gave the welcoming speech.
Guests who were presented at the event included  Md. Sirajul Islam, Md. Abdul Ahad, Md. Abdus Salam, Md. Abdur Rakib, Md.Nurul Islam, Md. Abdul Haque, Md. Sadrul Islam and others.  Maolana Rafiqul Islam Muhim conducted the Munajat.
The founder of the trust and founder of British-Bangladeshi Whose Who and Editor of  online portal Bangla Mirror and Sylhet Mirror spoke from London in mobile phone and mentioned that the trust was formed last year with the initiative of his family members.  The trust started its activities on 27 July 2022 by donating two lac sixty thousands taka to those who were affected in flood. This time the trust donated more than seven lak taka to the poor and destitute families of three villages. He also mentioned that the humanitarian activities of this trust will continue and it will keep helping poor and destitute people of local areas.