Trial begins to keep Tarique Rahman out of politics: Fakhrul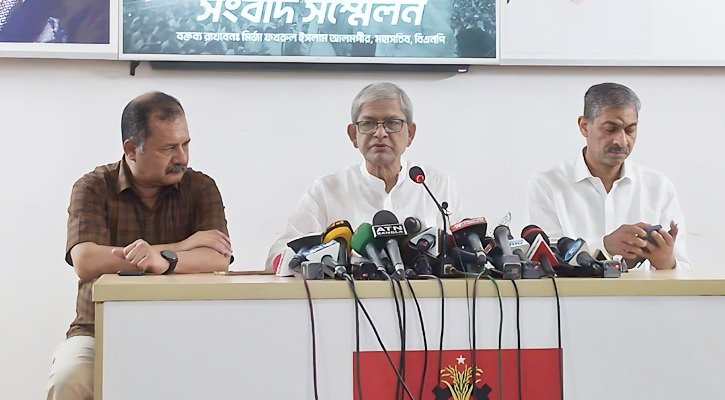 BNP Secretary General Mirza Fakhrul Islam Alamgir has said trial of a false case filed against the party's acting chairman Tarique Rahman and his wife Zubaida Rahman begins to keep them out of politics.
He made the remarks while addressing a press conference at the BNP Chaiperson Khaleda Zia's political office at Gulshan in the capital early this (Wednesday) afternoon.
The press conference was convened to inform the mass media about the decisions taken at a virtual meeting of the BNP Standing Committee held on Monday.
Mirza Fakhrul said the standing committee meeting expressed strong resentment and condemned at the order of the court for  framing charge and starting trial of Tarique Rahman and his wife Zubaida Rahman in the conspiratorial false case. As part of the blueprint hatched to annihilate the opposition, the government, in connivance with 1/11 illegal government, has implicated Bangladesh's most popular political family — late President Ziaur Rahman's wife Khaleda Zia, their son Tarique Rahman and his wife Zubaida Rahman in false cases. The government is now involved in a conspiracy to remove them from politics through the false cases, farcical trials and fixed verdict.
"The objective of the trial of a totally baseless fabricated and false case is to keep Tarique Rahman and Zubaida Rahman out of politics. In fact, the unlawful government of Sheikh Hasina wants to establish a rule to make Bangladesh an undemocratic and one-party state. Not only the Zia family, they have implicated some 40 lakh democracy loving leaders and workers of the opposition parties including BNP. Their only objective is to create a reign of terror in the country through repression, torture, forced disappearance and false cases. The authoritarian fascist regime wants to lengthen its misrule in the country through the rain of terror," he said.
Fakhrul said people would not accept this conspiracy against Tarique Rahman and Zubaida Rahman. People will force this illegal government to withdraw all the false cases against Begum Khaleda Zia, Tarique Rahman, Zubaida Rahman and all other captive leaders and workers.
Referring to the life-term verdict against four persons including BNP's former member of parliament Habibul Islam Habib in a case filed over attack on Sheikh Hasina's motorcade in Satkhira, Mirza Fakhrul said the judgement was "politically motivated" and "conspiratorial."
"Punishing such a politician centering an incident happened 21 years ago is completely "politically motivated, vengeful and conspiratorial." The government is doing all these things to make BNP out of leadership ahead of the next general election," he said.
Besides, people will force this unlawful government to step down from power, dissolve parliament, handover power to a caretaker government, and form a new election commission. In order to ensure a free, fair and inclusive election, there is no alternative to removal of this regime from power.
He called upon all the political parties, organisations, individuals and people to build a united mass movement to achive the goal.
BNP Standing Committee member Dr Khondker Mosharraf Hossain, Mirza Abbas, Gayeshwar Chandra Roy, Dr Abdul Moyeen Khan, Nazrul Islam Khan, Mirza Fakhrul Islam Alamgir, Amir Khasru Mahmud Chowdhury, Salahuddin Ahmed and Begum Selima Rahman, among others, were present at the meeting.