Want security in Indo-Pacific region but no defence pact: Momen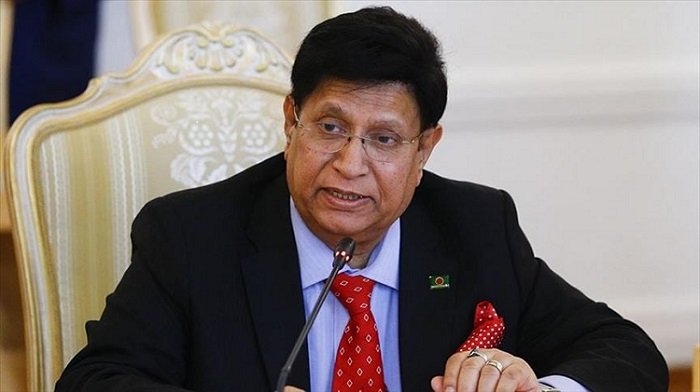 Foreign Minister Dr AK Abdul Momen has said the goals set out for the Indo-Pacific region are not much different from Bangladesh's, but the only concern is about its defence aspect, if any.
"Only thing we are afraid of – if it is designed for a defence pact, because we are a peace-loving country. We don't have any intention (to fight against anyone). We would like to see development in the whole region. We want security (in the region) but no defence pact," he said, UNB reports.
Momen made the remarks while responding to a question during a conversation on economic diplomacy with a focus on growth and development.
The Onero Institute partnered with the Atlantic Council's South Asia Center for the session held at the Elliott School of International Affairs, George Washington University this week.
The dialogue was moderated by the senior director of the Atlantic Council's South Asia Center, Irfan Nooruddin.
The foreign minister said Bangladesh does not have any disagreements on the issue and it also wants open, free, secure and freely navigable Indo-Pacific under the international laws.
He said Bangladesh wants economic development in the whole Indo-Pacific region and finds many things in common with the goals set up. "We don't have much difference. We believe the next century is for Asia and the Indo-Pacific provides an opportunity and potential."
Responding to a question on India-US-China, Momen said the US and China have their own tensions. "The US is our old friend while we have rock-solid relations with India. China became our development partner as they have money," he said.
He said the western countries including the US "do not come up with money but they come up with advice except for some exceptions."
"We are very prudent in accepting loans from China. We signed agreements on a big amount but we took a very small amount. It can't influence our policies," Momen said while responding to another question.
The foreign minister said Bangladesh is a "hub of connectivity" and maintains very good relations with all its neighbours.
"We have resolved all critical issues with India peacefully through dialogue and discussion," he said.
"Though Myanmar is a difficult case, we don't have any quarrel with them. We have only one difficult problem (Rohingyas)," Momen added.
He highlighted issues related to emerging Bangladesh, its socioeconomic achievements, economic partnership and prospects with the USA, economic and public diplomacy, regional development and navigating relations with major powers.
He said regional peace and stability are essential for development and those countries developed where there is peace and stability.
"For example, Singapore. It is peace and stability that has made Singapore an attraction for the whole of Asia," Momen said.
He said Prime Minister Sheikh Hasina wants to see development in the whole region.
"If we develop together, we can go much further. To make our achievements sustainable, we need regional development," Momen said.
He said Bangladesh is a land of opportunity and any country can invest in Bangladesh. "If we work together, we will achieve a lot."
On climate issues, Momen said Bangladesh is one of the most vulnerable countries on the climate front and sought cooperation and collaboration to address the common challenges.
"Climate issue is a global issue. We all have to work together in partnership and collaboration to save this planet for our future generation. There has to be a political commitment," he said, highlighting the initiatives that Bangladesh has taken on the adaptation front.
The foreign minister said they are lucky that they have a remarkably dynamic and pragmatic leader like Sheikh Hasina who brought development miracles with her commitment despite many challenges.
IRI Officials Keen to Observe Bangladesh Polls
Earlier, Foreign Minister Momen joined a meeting as the chief guest at the International Republican Institute (IRI) in Washington DC.
At the meeting, he talked about Bangladesh's political landscape, its electoral process and preparedness for a free, fair and participatory general election.
IRI officials expressed their interest to observe the general election which was cordially welcomed by the foreign minister. President of the Institute Daniel Twining moderated the event.
Bangladesh Ambassador to the USA Muhammad Imran, Director General (North America) of the Ministry of Foreign Affairs Khandker Masudul Alam and officials of Bangladesh Embassy were present at the two events.
Foreign Minister Momen also visited Washington University of Science and Technology (WUST) in Virginia founded by a Bangladeshi entrepreneur.
He delivered a speech as the chief guest at a discussion session organised by the university authorities.
The foreign minister highly praised the authorities for establishing such a higher educational institution in the USA and wished for its overall success.
President of the University Hasan Karaburk and Chancellor and founder Engineer Abubokor Hanip, among others, spoke at the event, while faculty members and students of the university and officials of Bangladesh Embassy were present on the occasion.