PM Sheikh Hasina slams BNP for calling for movement in Ramadan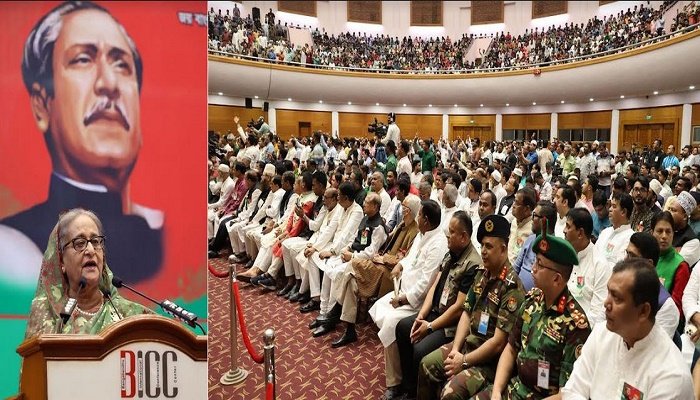 Prime Minister and Awami League (AL) President Sheikh Hasina on Monday denounced the BNP's call for movement in the month of Ramadan disregarding its sanctity and peace in public life, urging the countrymen to remain alert about any move against the country's development.
"They (BNP) have announced movement even in the month of Ramadan. Give the people a sigh of relief from the movement during the month of Ramadan," she said while presiding over a discussion organised by the AL marking the 53rd Independence and National Day at the Bangabandhu International Conference Centre (BICC) in the capital city.
The Prime Minister reminded the countrymen that Khaleda Zia had killed 17 labourers with bullets in the month of Ramadan as they waged a movement for raising their salaries.
"Those who shot dead people in the month of Ramadan, how will they show respect to the month of Ramadan? So, they have called for a movement. They have no feeling for Ramadan and over the sufferings of the people," she said.
On the contrary, the AL President said, they (AL) have decided not to hold any Iftar party but to distribute the money and food among the common people in the month of Ramadan aimed at easing their sufferings.
The Prime Minister came down heavily on the BNP leaders and some so-called intellectuals for not seeing democracy and development in Bangladesh despite the fact the world community has been bound to show respect to Bangladesh after seeing its massive development.
"The World Community has been compelled to describe Bangladesh as a role model for development," she said.
The Premier said Bangladesh has secured huge development in the last 14 years since AL government assumed power in 2009 due to her government's tireless efforts and continued democratic process.
AL General Secretary and Road Transport and Bridges Minister Obaidul Quader, MP, Presidium Members Shajahan Khan, MP, Mofazzal Hossain Chowdhury Maya, Bir Bikram, Dr Mostofa Jalal Mohiuddin, and Jahangir Kabir Nanak, Chairman of International Affairs Sub-committee Ambassador Mohammad Jamir, Presidium Member Abdur Rahman, Liberation War Affairs Secretary Advocate Mrinal Kanti Das, MP, central executive members Parveen Zaman Kalpana and Advocate Sanjida Khanom, MP, Dhaka South and North City AL General Secretaries Humayun Kabir and SM Mannan Kochi respectively, spoke on the occasion.
AL Publicity and Publication Secretary Dr Abdus Sobhan Golap, MP, and his deputy Syed Abdul Awal Shameem moderated the discussion.