Bangladesh edged past Seychelles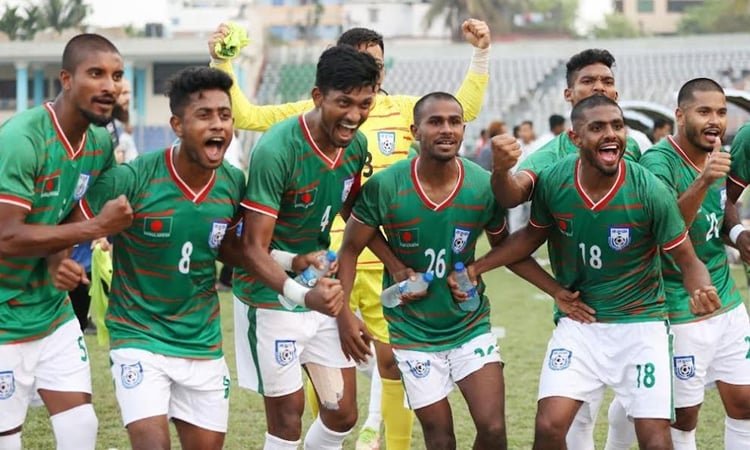 Bangladesh national football team beat visiting Seychelles by 1-0 goal in the first match of two-match FIFA Tier-1 Int'l Football Series held today (Saturday) at Sylhet District Stadium in Sylhet.
Bangladesh took control in the beginning of the match and got two free kicks early, but they could not make the best use of those due to lack of proper finishing.
Bangladesh got the first scoring chance in the 33rd minute. Topu Barman took a perfectly header from the close range off skipper Jamal Bhuyan's a cross from the right wing, but Seychelles custodian Alvin Roddy gripped the ball brilliantly.
However, Bangladesh's best moment came in the 43rd minute. Defender Tariq Kazi finally broke the deadlock with a perfect header from inside the danger zone after the ball came to his way when Seychelles forward Brandon Molle wanted to clear Jamal Bhuyan's free kick.
Back with a narrow 1-0 lead, the host continued onslaught in the second half creating numbers of scoring chances. Nigerian-born Bangladeshi forward Elita Kingsley, who made his debut in the match, took a powerful left footer shot from the close range in the 86th minute, but custodian Alvin Roddy brilliantly fisted the ball for safety.
Seychelles, on the other hand, came close of scoring in the 19th minute when midfielder Brandon Rashid, after ran down from the mid field, took a shot from the D-box, but the ball narrowly missed the target.
Seychelles are currently ranked 199 in the FIFA rankings and seven steps behind Bangladesh, after conceding the goal, tried their best to stage a fight back in the match, but they could not score any in the remaining proceeding and eventually they had to leave the field with empty hand.
The second match between the two teams will be held on Tuesday (March 28) at the same venue.
State-owned Bangladesh Television will telecast the match live that kicks off at 3.45 pm. Bangladesh Betar will also provide the live commentary of the match.
Bangladesh squad – Anisur Rahman, Topu Barman, Jamal Bhuyan, Rakib Hossain, Tariq Raihan, Aminur Rahman, Md. Sohel Rana, Sohel Rana, Rimon Hossain, Saad Uddin and Mojibor Rahman.