Expressway crash: Death toll now 20, seven still critical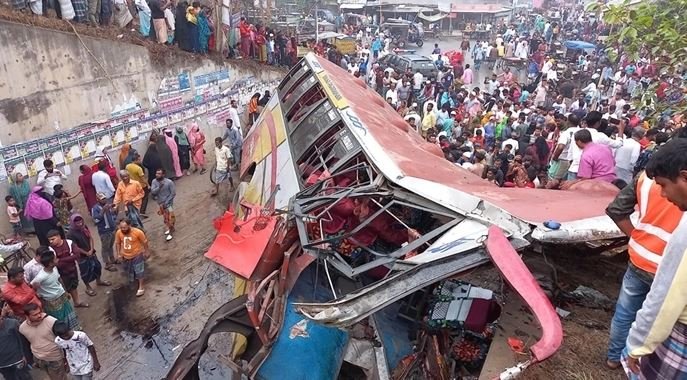 Two more victims among the nine critically injured in Madaripur's Shibchar expressway bus accident succumbed to their injuries at Dhaka Medical College Hospital (DMCH).
At least 25 passengers were injured. Of them, some were sent to Shibchar Upazila Health Complex, while critically injured nine were to DMCH.
Total 18 people died on the spot and two at Dhaka Medical College Hospital on arrival, according to Shibchar Highway Police OC Abu Nayeem Mohammad Tofazzel.
Critically injured seven victims are currently receiving treatment at Dhaka Medical. They are Faysal Ahmed, 36, Abdul Hamim, 50, Badroddoza, 30, Pangkaz Kantiz Ghosh, 40, Jhuma, 34, Bulbul, 50; and Enamul, 40.
Fire Service and police members are carrying out the rescue work.
It was learnt that a Dhaka-bound bus of Emad Paribahan left Khulna's Fultala at 4am. Later, it started for Dhaka taking passengers from Shonadanga Bus Stand at 5am.
Around 7:30am, the bus driver lost control when the vehicle reached in Kutubpur on the expressway and fell into a roadside ditch breaking railing. Eighteen died on the spot and at least 25 injured.
Most of the passengers on the bus were from Gopalganj.