Classes, exams suspended at RU, around 300 sued for clash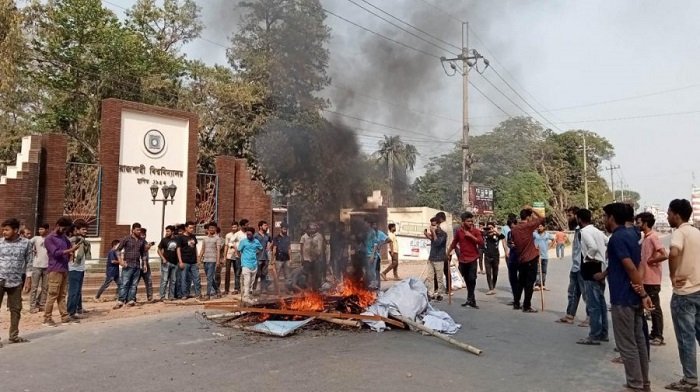 Classes and examinations at Rajshahi University (RU) remained suspended on Monday as per the authorities decision following Saturday's clash near the campus.
Motihar Police Station SI Amant Ullah on Sunday night filed a case accusing some 250-300 persons over the clash between locals and the students in Binodpur Gate area of Rajshahi city on Saturday.
Police filed the case bringing allegation of arson attack on police box, torched motorcycles and obstructed police to perform their duties.
Today, the protesting students started their demonstration from the morning inside the campus like Sunday.
Meanwhile, the university administration has formed three-member probe committee to investigate the incident.
RU deputy vice-chancellor Prof Humayun Kabir has been made the chief of the probe body.
A large number police have been deployed in front of the main gate of the university. No shops in Binodpur were opened today.
At least 250 people were injured during a clash between RU students and locals in Binodpur on Saturday night following an altercation between a student of the university and a bus staff.