Experts for emergency response plan at hospitals for venerable kidney patients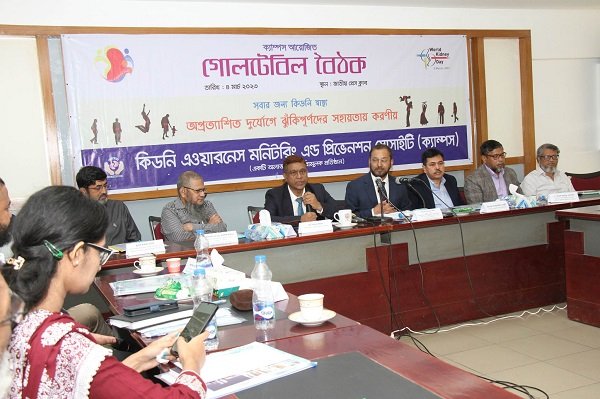 Taking the emergency response plan of the hospitals with coordinated support is essential to address needs of urgent treatment of vulnerable patients including critical kidney patients in the country, viewed experts.
The health experts came up with the recommendation while speaking at a roundtable titled 'Kidney health for all; Duties for support of vulnerable at unexpected disaster' at the Jatiya Press Club in the capital on Saturday.
The experts also stressed the need to adopt integrated health strategies that prioritize prevention, early detection, and management of non-communicable diseases (NCDs), including kidney disease.
Voluntary organisation Kidney Awareness, Monitoring and Prevention Society (KAMPS) organised the roundtable discussion as part of its series of program in observance of the World Kidney Day-2023.
This year the World Kidney Day will be observed across the world on March 9 (Thursday). This year the theme is 'Kidney Health for all-Preparing for the unexpected supporting the vulnerable'.
The health experts also pointed out that the health care services should provide equitable and proper access to care for chronic patients during the time of emergency.
Founder and Chairman of the KAMPS Prof. Dr. MA Samad moderated the roundtable and gave a power point presentation on the theme of the current year's world kidney day.
Director General of Department of Disaster Management Md. Mijanur Rahman, former Director General of Fire Service and Civil Defence Brig. Gen. (Retd) Engr. Ali Ahmed Khan, Professor at Department of Civil Engineering of BUET Dr. Mehedy Ahmed Ansary, Prof. Dr. Harunur Rashid, President of Kidney Foundation, Prof. Dr. Nizam Uddin, President of Bangladesh Renal Association, Prof. Dr. Md. Qamrul Islam, Managing Director of CKD & amp; Urology Hospital, Dr. Abdul Latif Helali, Project Director of Urban Resilience Project of RAJUK, Gazi Ashraf Hossain Lipu, former skipper of national cricket team, Prof. Dr. Harisul Huq, Professor of the Department of Cardiology at BSMMU and General Secretary of the KAMPS also addressed the programme.