Argentine FM Cafiero visits BFF house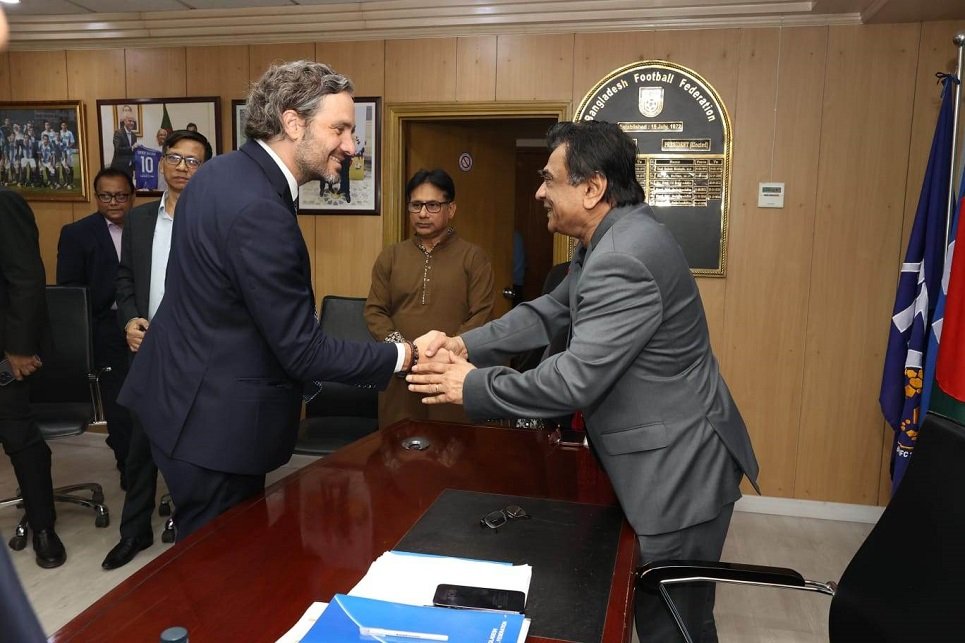 The Argentine minister for foreign affairs, international trade and worship Santiago Cafiero along with his entourage of three Argentine club team officials visited the Bangladesh Football Federation and held a meeting with the Bangladesh football federation president Kazi Salahuddin on Tuesday.
Cafiero-led Argentine delegation also watched an exhibition match between BFF Under-17 women's Red and Green teams match at the BFF Artificial Turf before Cafiero briefed the media.
"We are honored to be here. And you had to know that you make us feel at home because football is very national and very important for Argentina. We feel at home here because of all the football fans (supports) that you did give us, at(during ) the World Cup, and here today. Here we opened the embassy yesterday and I feel that it is a good step to strengthen our relationship," the FM said.
BFF chief Salahuddin also thanked the visiting delegates for managing time to visit BFF and watched the game, "Thanks to foreign minister and his team. We are very pleased that they took the time to come to the federation and watched the children play. We are very happy and thankful.".
BFF senior vice president Abdus Salam Murshedy spoke a bit in detail and answered to media questions.
"The diplomatic relationship between the two countries will be strengthened with the setting up of the Argentine embassy in Dhaka. The diplomatic window between the two nations has been open. It is a restart of a relationship because of football… All these love and friendship derived from football. 'We will get technical support for football development.…It will open ways for overall trade and investment expansions," said Murshedy.
Replying to a query about any concrete outcome about Argentina national football team visiting Bangladesh, Murshedy further said, "It is a process and a matter of time… I think we are very close to reach the decision. I believe, of course they will come."
Meanwhile, the Argentine delegate, who arrived in Dhaka on February 27, is scheduled to leave for home Wednesday.