Tokyo Olympic bribery trial opens; accused accepts guilt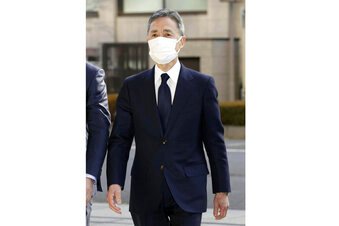 A trial looking into widespread bribery at the Tokyo Olympic organizing committee began Friday with a former head of a major ad company admitting to the charges.
Shinichi Uneo, who formerly headed ADK Holdings, quietly told the Tokyo District Court the allegations were accurate. In Japan, a trial continues even if a suspect admits guilt. Three prosecutors took turns reading their opening statement during a two-hour session, AP reports.
Ueno is accused of paying nearly 15 million yen ($110,000) to Haruyuki Takahashi, a former executive at ad giant Dentsu, who wielded powerful influence in selecting sponsors for the 2020 Games. Ueno is among 15 people arrested in the bribery scandal.
Takahashi has long been a prominent person in sports marketing with Dentsu, the official marketing partner of the Tokyo Olympics. Dentsu has also been implicated in a scandal to bribe International Olympic Committee members who picked Tokyo back in 2013.
The sprawling scandals around the Tokyo Olympics have badly damaged the chance of the northern city of Sapporo of landing the 2030 Winter Olympics. It was the early favorite. The IOC has now pulled Sweden into a possible bid for the 2030 Games.
Tokyo officials spent $13 billion to hold the delayed Tokyo Games, although a Japanese government audit suggested the real price might have been twice that much.
Other trials involving Olympic bribery are expected to follow, including that of Takahashi. Takahashi is suspected of having received about 200 million yen ($1.5 million) in bribes from various companies.
A trial began in December of three officials formerly at clothing manufacturer Aoki Holdings. Aoki was chosen to make licensed products, including outfits for the Japanese Olympic team.
Another company embroiled in the scandal is publisher Kadokawa, where two officials have been arrested. They are accused of paying 76 million yen ($540,000) to Takahashi. The sponsorship allowed Kadokawa to publish programs and other books related to the Tokyo Olympics.
Sun Arrow, which produced the Olympic and Paralympic mascots named Miraitowa and Someity, is also scheduled to stand trial.
Tokyo prosecutors are also carrying out a separate investigation over bid-rigging for Olympics pre-events, and possibly the actual Games.
Senior Olympic official Yasuo Mori, Dentsu's sports division chief Koji Henmi, and two other executives at event organizing companies were arrested earlier this month on charges of violating anti-monopoly laws.