Four envoys visit Noakhali Bhasan Char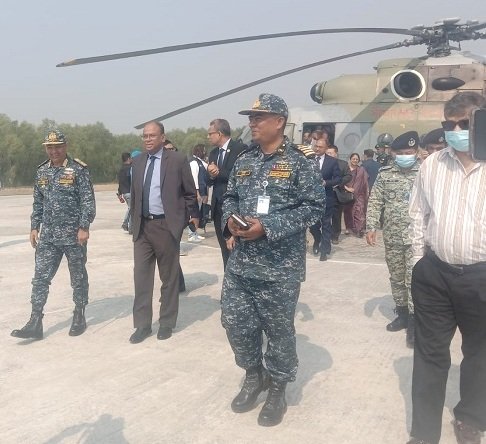 A delegation, including the ambassadors of Japan, China, France and Indonesia, visited Bhasan Charat at Hatia upazila in Noakhali district on Friday.
The delegation observed the overall situation from 11am to 3pm, and talked to the Rohingyas living in different houses of Bhasan Char about their facilities, quality of life and other issues, said Bhasan Char Police Station Officer-in-Charge Humayan Kabir.
Earlier, Japanese Ambassador Iwama Kiminori, Chinese Ambassador Yao Wen, French Ambassador to Bangladesh Marie Masdupuy, Indonesian Ambassador Heru Hartanto Subolo, UN Resident Coordinator Gwyn Lewis, UN High Commissioner for Refugees Representative Johannes Van Der Klaauw and World Food Program Officer-in-Charge Simone Lawson Parchment reached Bhasan Char by helicopter at 10:30 am on Friday.
The delegation comprising Ministry of Foreign Affairs Senior Secretary Masud Bin Momen, Ministry of Finance Senior Secretary Fatima Yasmin, Ministry of Disaster Management and Relief Secretary Md Kamrul Hasan, Secretary of the Prime Minister's Office Md Salahuddin, Private Secretary to the Prime Minister's Chief Secretary Md Kaisarul Islam was led by Chief Secretary to Prime Minister Md Tofazzel Hossain Miah.