'Want peace, but ready to repulse external attack'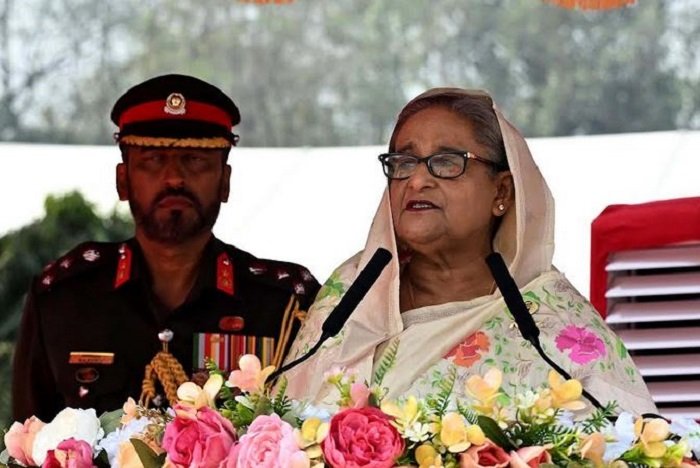 Prime Minister Sheikh Hasina on Thursday said the armed forces are being developed appropriately to give fitting reply if the country comes under attack by any external forces.
"If external forces attack, we have to face that. For that we have to build up appropriate armed forces and accordingly we have taken various steps," she said, reports UNB.
The prime minister said this while addressing the 10th Tigers' Reunion of the East Bengal Regiment at Bangladesh Military Academy (BMA).
She said that Bangladesh does not want to engage in war with anyone.
"We believe in the policy of friendship to all and malice to none. This policy was formulated by the Father of the Nation," she said.
Briefly describing various development activities of the government to modernise Bangladesh Army, she said that Sheikh Russell cantonment has recently been established in Mawa-Jazira while construction of new cantonments is under way in Mithamin, Rajbari and Trishal.
"Construction of Army Aviation Forward Bases at Chattogram and Cox's Bazar and Aviation School at Lalmonirhat is also in progress," she said.
She mentioned that the government has added new composite brigade and para commando brigade in the army.
"Sophisticated and up-to-date weapons are being procured for each force," she said.
She said that the government wants to transform Bangladesh as a country of peace.
"For that we have adopted zero tolerance policy against terrorism and militancy," she said.
The PM said that Bangladesh has faced COVID-19 pandemic successfully.
But she mentioned that Russia-Ukraine war and subsequent sanctions caused economic recession across the globe where developed countries have also been affected.
"Food prices in various countries increased excessively, and there is trouble in getting foods also," she said.
She said that the land of Bangladesh is fertile while people are very much skilled.
"I want that every citizen of the country will cultivate whatever land one has so that the blow of world economic recession can not hit Bangladesh," she said.
Hasina said that the government has increased country's food production and ensured food security.
"It is true, but alongside of that we have to continue this (increased food production) until this (Russia-Ukraine) war stops and the world get rid of the economic recession," she said.
She urged all to work hard ensure that the global economic recession does not affect Bangladesh.
At the programme the PM took salute and also inspected the parade riding on an open jeep.
She witnessed the spectacular parade of a smartly-turned out contingent of East Bengal Regiment followed by a colourful cultural programme.