Govt won't be able to stop struggle for restoration of democracy: BNP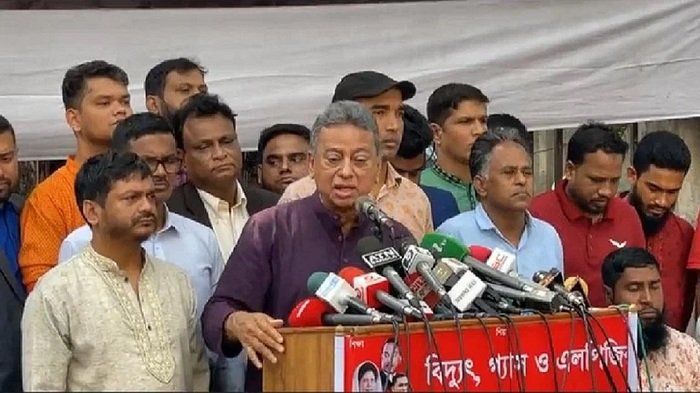 The Awami League government will not be able to stop the opposition's struggle for restoration of democracy through counter programmes, BNP standing committee member Amir Khasru Mahmud Chowdhury has warned.
"If you look very closely, you will find that they (Awami League) have become the opposition party. If you look at their role, you will see that the Awami League is not in the government. When BNP announces programmes, they announce counter programmes. They have now started announcing peaceful programmes," he said early Friday (February 10, 2023) afternoon.
"But, we want to assert that any attempt to foil BNP's peaceful programmes will not be accepted. Thousands of people took to street against the government. It has proved that the government will not be able to stop them by resorting to firing, killing, implicating them in false cases," Khasru said.
Jatiyatabadi Textile Engineers Association of Bangladesh (JATEB) organised the rally in front of Jatiya Press Club to press home BNP's 10-point demand, including the resignation of the government, holding the next polls under a caretaker government, releasing all political detainees including the party chairperson Begum Khaleda Zia, and protesting the price hikeof all essentials and utility services.
Referring to Awami League's peace rally countering the opposition's programmes, Khasru questioned whether the government has disbanded the enforcement agencies as the ruling party leaders and activists are taking to the streets to ensure peace.
He said the Awami League's political weakness has reached such a level that it now cannot attract people with distinctive political programmes. "So, they're trying to obstruct BNP's programmes."
"We would like to say that you are now known as a laughingstock to people, no matter how much you give counter programmes, hold peace rallies and how much you talk about protecting people's assets. The people of the country laugh at your programmes," the BNP leader observed.
He said Awami League is now seeking shelter from police, RAB, BGB and the court after being completely politically defeated. "You have been defeated politically also by taking a stand against people."
The BNP leader alleged that the Awami League leaders and activists have been siphoning off huge amounts of money by indulging in corruption and plundering.
"Those who are looting the country's resources and siphoning off money abroad must be accountable to people in the future, and they must return the money to the country," he said.
JATEB president Md Fakhrul Alam presided over the rally. It was also addressed by BNP joint secretary general Khairul Kabir Khokon, BNP Chairperson's adviser and Dhaka City South BNP convener Abdus Salam and Dhaka Union of Journalists (DUJ) president Kader Gani Chowdhury, among others.