PM Sheikh Hasina urges people to pay taxes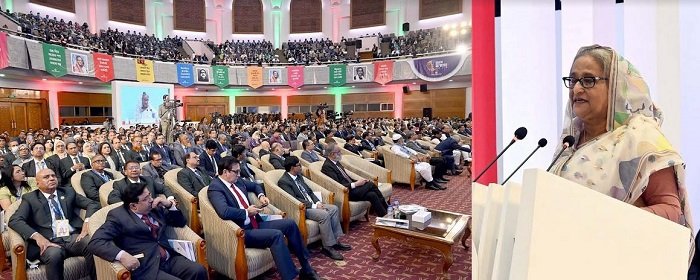 Prime Minister Sheikh Hasina on Sunday called upon the countrymen to pay their taxes, stressing the need for increasing revenue income and expanding the tax net in view of the ongoing global economic crisis.
"Those who are able to pay taxes not only in the capital or in cities, but also across the country, please pay your taxes. The government will use your money in your service and welfare," she said, reports BSS.
While inaugurating the country's first-ever two-day Revenue Conference-2023 aimed at developing the revenue management system, she said the entire world is now going through an economic recession and high inflation rate which also fell upon Bangladesh.
"So, we have to step ahead after facing those (economic recession and high inflation rate). The more we collect taxes, the more it will be easy and possible to overcome it," she said.
The Prime Minister asked the concerned authorities to work with sincerity and professionalism to extend the tax net instead of increasing the rates of taxes and wage a massive awareness movement across the country to inspire the people to pay taxes.
Referring to her government's policy of making huge development from the grassroots in the last 14 years since 2009, she said there are people having ability to pay taxes are at the union and upazia levels.
She added: "We don't want to increase the rate of taxes as the inflation rate is high now. We want to increase the number of taxpayers and you should pay attention to it."
The Prime Minister thanked the revenue collection authority for introducing e-tax filing system cashing in on the advantages of being 'Digital Bangladesh'. The people will be inspired to pay their taxes through online as many considered paying taxes manually as hassle, she said and asked all authorities concerned to popularise the system through massive publicity.
She once again vowed to build a developed, prosperous and Smart Bangladesh by 2041, saying, "We will make our economy smart and we will build Smart Bangladesh through it."
She opened the conference at a function held at the Bangabandhu International Conference Centre (BICC) in the city.
Internal Resources Division Senior Secretary and National Board of Revenue (NBR) Chairman Abu Hena Md Rahmatul Muneem and its Member Dr Abdul Mannan Shikder spoke at the function.
A video-documentary on the activities of the NBR was screened on the occasion.
The Prime Minister earlier inaugurated the newly constructed 12-storey Revenue Building of the National Board of Revenue (NBR) at Agargaon in the capital city.
She inaugurated the new Revenue Building, built at a cost of Tk Taka 412 crore, by unveiling its plaque this morning.
After opening the building, the Prime Minister went round its different sections.