All stakeholders should work together to achieve SDGs: FM
SDGs require much greater, long-term, assured global resources, says Shahriar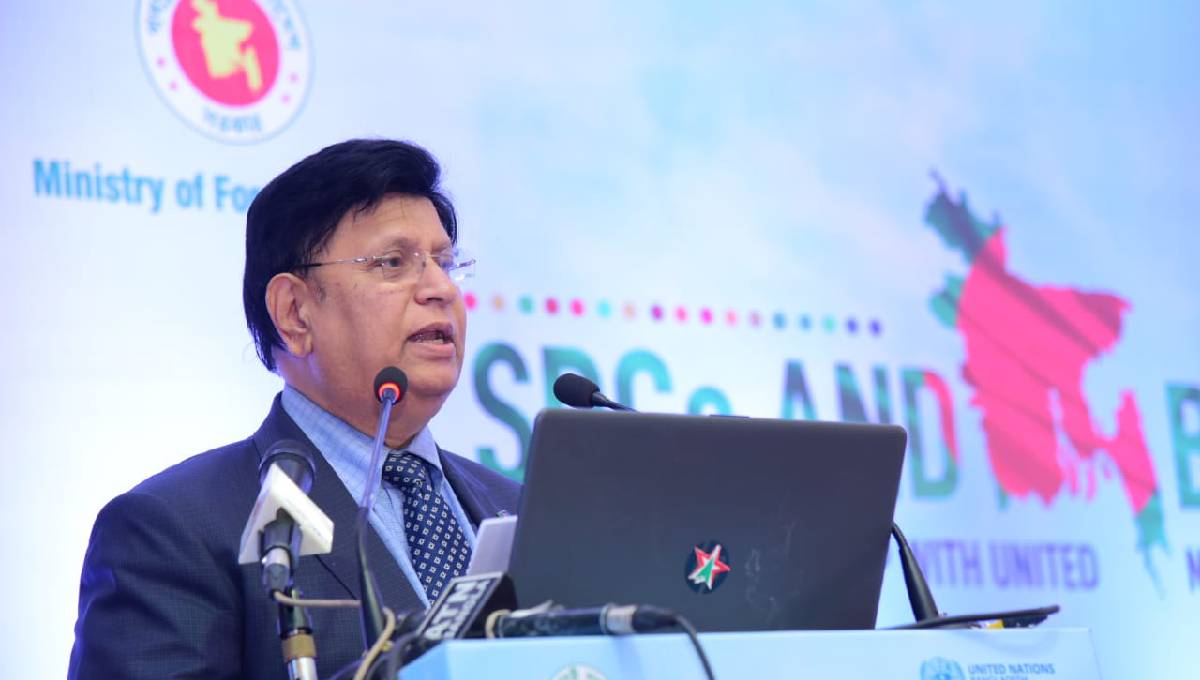 Dhaka, Sept 19 : Foreign Minister Dr AK Abdul Momen on Thursday said all the stakeholders should work together to achieve the anticipated outcomes in terms of Sustainable Development Goals (SDGs) as there is a long way to go despite some progress.
"We're hopeful that we're on the right track, and will overcome our challenges as we did in the past in order to successfully accomplish the SDGs in cooperation with UN and all other stakeholders," he said.
Dr Momen said the good news is that they have launched SDG tracker that can be used for comprehensive target setting and monitoring progress of each SDG along with the indicators.
The Foreign Minister was addressing a conference titled "SDGs and Bangladesh: Partnership with United Nations in achieving the SDGs in Bangladesh" at Bangabandhu International Conference Centre in the city.
State Minister for Foreign Affairs M Shahriar Alam, UN Resident Coordinator Mia Seppo, Member (Senior Secretary), General Economics Division, Planning Commission Dr. Shamsul Alam and UNFPA Regional Director, Asia Pacific Bjorn Andersson, among others, spoke at the inaugural session of the conference.
Dr Momen said although they are progressing in every dimension, they still have a long way to go. "Vulnerability to the climate change poses a great threat to us."
He said the government has developed the Bangladesh Climate Change Strategy and Action Plan (BCCSAP) funded by its own money.
Currently, several projects for mitigating the climate change effect and developing resilience against the threat has been implemented by the government in coordination with the UN and other development partners.
"Ending poverty, ensuring health facilities for all, reducing child and maternity death, reducing inequality in all spheres of national life, ensuring quality education, ensuring environmental well-being are some of the major challenges we need to overcome," Dr Momen said.
He said the UN Country Team (UNCT), comprised of 23 different UN organisations collectively supports the government's efforts to achieve the SDGs.
"UN's cooperation in the attainment of MDGs is genuinely praiseworthy and I personally thank them for this. They're also working closely with the government to formulate the UN Sustainable Development Cooperation Framework aligned with the 8th Five Year Plan," said Dr Momen hoping that this cooperation will continue in the foreseeable future.
He further said, "Once our famous Bangladeshi poet Rabindranath Tagore wrote and I quote, (Don't be frightened seeing the cloud, as the sun is shining behind)."
Shahriar said SDGs will require much greater, long-term and assured global resources and support for sustainable development in developing countries like Bangladesh.
"I hope our friends in the UN system will continue their support and cooperation in our efforts," he said.
The State Minister said the United Nations has been playing a major role in the socioeconomic development of Bangladesh since its independence, which they achieved under the leadership of the Father of the Nation Bangabandhu Sheikh Mujibur Rahman in 1971.
He expressed his heartfelt thanks to the UN organisations operating in Bangladesh for their contribution in poverty eradication, health, food and nutrition security, education, eradicating inequality, and promoting gender equality.
"We've our political commitments and policy support for successful implementation of the SDGs," he said adding that they are mobilising resources, enhancing capabilities and empowering people with this end.
He said they are also engaged in partnership with a wide range of international actors, private sectors and responsible civil society.
"Many innovation and development solutions have already been developed. But many more need to be done," he said.
Mia Seppo described the conference as important dialogue on the global goals in Dhaka ahead of the 74th UNGA in New York.