In Tuscany, eat as the Tuscans…NOT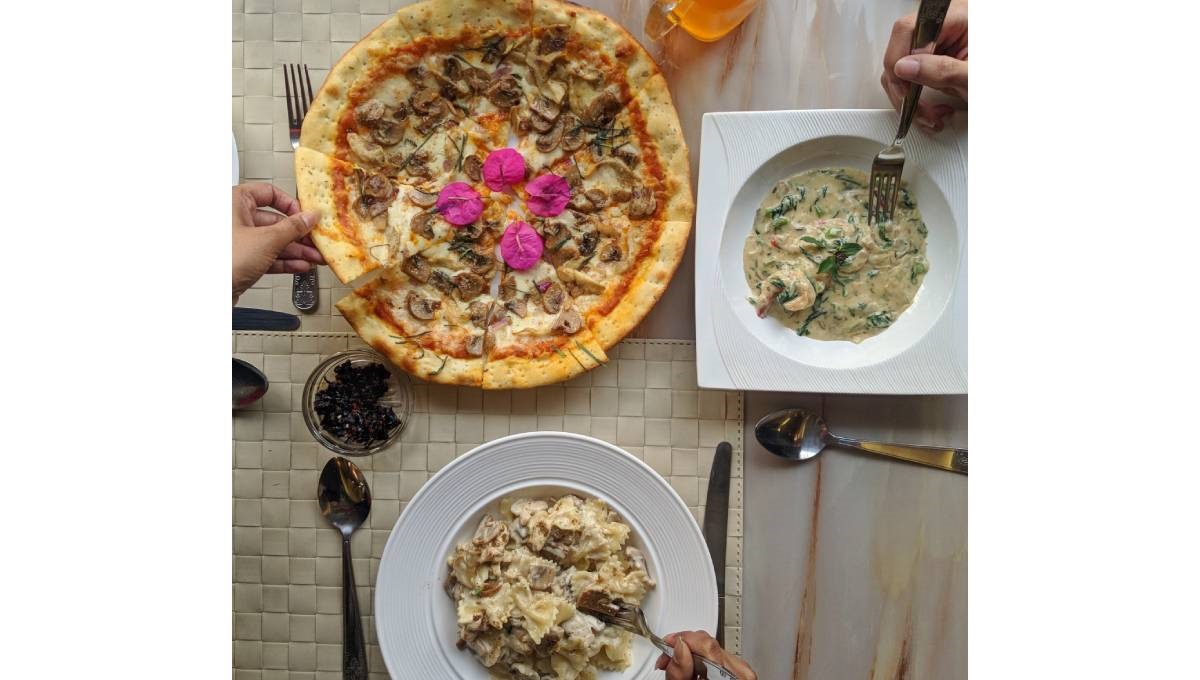 Although the restaurant opened quite some time ago, Tuscany hasn't really managed to leave a mark when it comes to serving Italian food. Sadly, my visit there recently did little to change that.
The interior of the place was very confusing with some areas receiving natural light and some completely dark. To add to that, the restaurant was empty at lunch time. The chef himself came to receive our order. The gentleman told us about his journey to becoming a chef in Italy and finally coming back to cook here.
They start you off with some buns. The butter had to be asked for which is very weird as the buns were just plain ones.  We ordered Gamberetti All Aglio-E-Olio, Funghi Pizza, and Farfalle Con Pollo-E-Funghi i.e a seafood dish, a pizza, and pasta.
With prawns sauteed in garlic chili peppers and cooked in lemon & butter sauce, Gamberetti All Aglio-E-Oliowas a delight! The prawns stood out with their redish pink tails. But what really stole the show was the spinach in lemon and butter sauce with its richness. Soak some toasted bread with the sauce and you'll be swoon away with the velvety texture.
If an Italian restaurant can't get a classic Margherita or Funghi Pizza right, then I am sorry but I am not going back there. Tuscany messed up terribly in delivering a decent thin crust Funghi pizza. The crust was thin and didn't fall apart, however the tomato sauce base tasted like the ones you'd have at random snack shops. I couldn't smell the oregano or any herbs and the quantity of cheese was also very poor. The only good aspect would be the use of Chanterelle and Button Mushrooms because of their meatiness and it's quite rare to use them in pizzas found at Dhaka.
The Farfalle Con Pollo-e-Funghi contained strips of chicken breasts, mixed mushroom cooked in a creamy white sauce. A dash of nutmeg is what set the pasta apart from the ones I've tasted in Dhaka. The creamy sauce tasted quite similar to the one of gamberetti (minus the spinach). Now moving on to the negative of this dish, the chicken tasted undercooked. The presentation of the dish wasn't proper at all and at one point the pastas started getting clumpy.
The sad thing with Dhaka is that nowadays, too many restaurants claim to be authentic whereas their dishes are hardly close to it. Tuscany is such a place where every dish screams fusion. They are created in such a way that it'd cater to Bengali taste buds and still I don't know whether I'd go back to that place when places like Bella Italia exist.