Enjoy the special occasion with delicious recipes
Eid Mubarak!

Sholay Kabab 
Ingredients:
900g – Lamb chunks (boneless)
Salt (to taste)
Cardamom powder (a pinch)
Fenugreek (methi) powder (a pinch)
White pepper powder (a pinch)
8g -Red chilly powder
4g – Garam masala powder
4g – Kalonji
Crushed saunf (a pinch)
Mustard seeds (a pinch)
Cumin seeds (a pinch)
Coriander seeds (a pinch)
35g – Ginger garlic paste
60g – Raw papaya grated
100ml – Mustard oil
20ml – Vinegar
100g – Yoghurt
20g – Butter
200ml – Oil
200ml – Water
Method:
*Wash, clean and dry the lamb pieces.
*Prepare a marinade by mixing together all the ingredients.
*Marinate the lamb pieces in the prepared mix and keep aside for one and half hours.
*Skewer the marinated lamb and roast in a medium hot tandoor for 10-12 minutes.
*Baste with butter and roast again for five minutes. Remove from skewers and serve hot.
Teh Biryani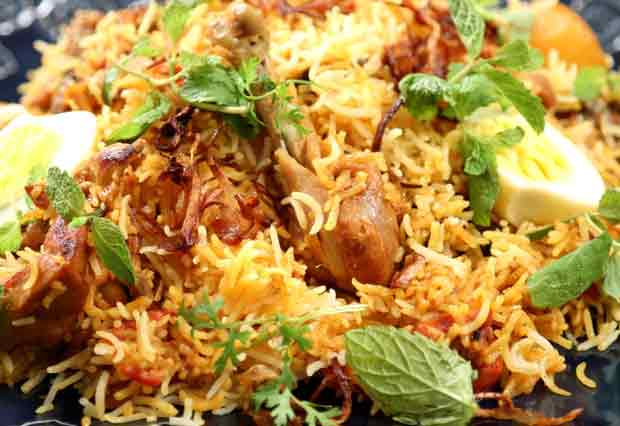 Ingredients:
1kg – Basmati rice
6g – Cardamom
8g – Cloves
10g – Cinnamon
250ml – Milk
Gulab jal (few drops)
Kewra (few drops)
200ml – Oil
10g – Red chilly powder
Salt (to taste)
2kg – Mutton/lamb
100g – Ginger garlic paste
200g – Fried onions
10g – Javitri elachi powder
Method:
Cooking the meat prior to biryani:
*Wash the mutton and allow excess water to drain off.
*Take some oil in a pot and add mutton. Put the ginger garlic paste, cinnamon, cardamom, cloves, salt, red chilli powder and brown onions on top of the meat.
*Cover with a lid and cook on simmer for about 15 minutes. Stir well, cover and cook further for 10 minutes on moderate heat.
Yakhni Shorba
Ingredients:
500g – Boneless lamb meat
500g – Lamb shank bones
8 cups – Water
1tbsp – Sugar
3/4 tsp – Salt
2 inches – Ginger (chopped)
2tbsp – Saunf
2 inches – Cinnamon stick (broken into half)
8 – Cloves
6 – Black cardamom (cracked open)
10 – Black peppercorn
2 – Bay leaves
1 tsp – Cumin seeds
2 tsp – Coriander seeds
Method:
*Add lamb meat, lamb bones, water, sugar, salt and spices in a large deep pot.
*Bring it to a boil, turn heat to low and cook lamb on medium heat till the water is reduced to half. If the meat is not tender at this stage, add more water and keep cooking till done.
*Strain the liquid and collect the cooked meat. Put it back into the soup and further simmer for five minutes.
*Serve hot garnished with fried onions.