S Korea to consider duty-free access of BD products to its market
'Korea earmarks US$ 1bn ODA for Bangladesh for 2020'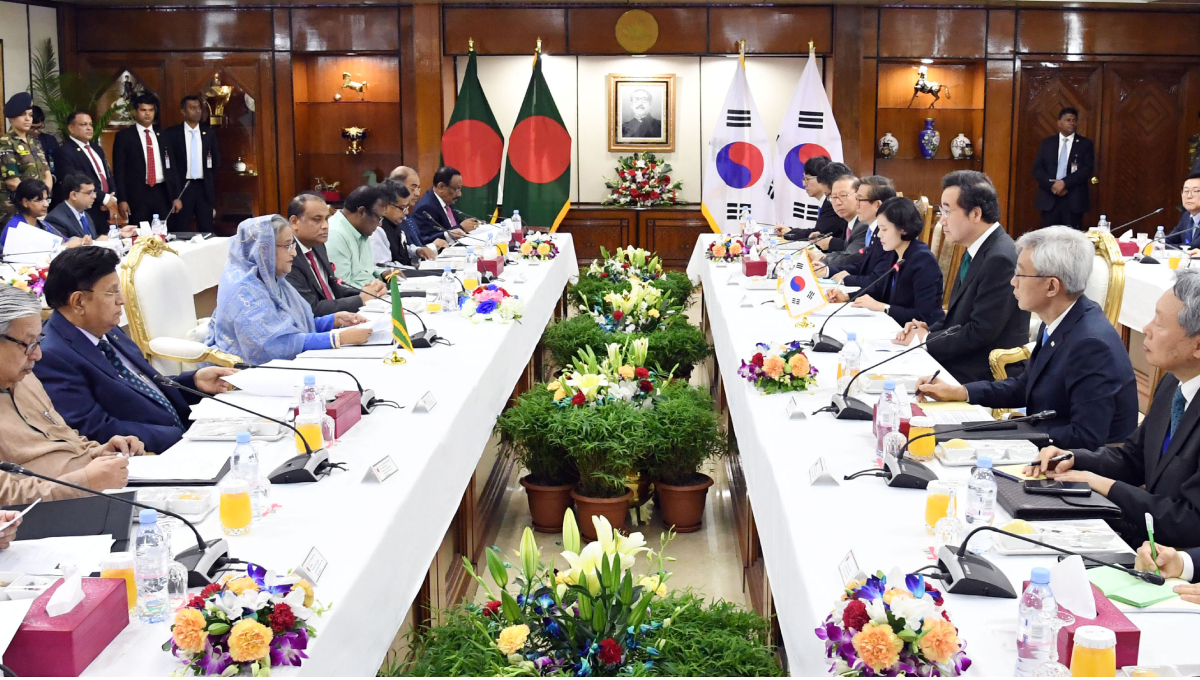 Dhaka, Jul 14 : South Korean Prime Minister Lee Nak-yon on Sunday assured Bangladesh of considering duty-free quota-free market access for all Bangladeshi products to their market as the bilateral trade is heavily tilted towards Korea.
The assurance came during the official summit talks between Prime Minister Sheikh Hasina and her South Korean counterpart Lee Nak-yon at the Prime Minister's Office.
During the talks, Sheikh Hasina requested South Korea to consider allowing duty-free quota-free market access for all of Bangladeshi products without any exception to narrow down the trade imbalance as the trade between the two countries is heavily tilted towards Korea.
PM's Press Secretary Ihsanul Karim briefed reporters after the official talks.
Both the Prime Ministers led their respective sides at the 40-minute summit talks.
"The Korean side informed that they have earmarked US$ 1 billion ODA (Overseas Development Assistances) for Bangladesh for 2020," Ihsanul Karim said.
He said different bilateral issues, including trade, commerce, investment, technical cooperation and Rohingya, were discussed at the summit.
At the bilateral talks, Hasina said Korea has substantial investment in textiles, tanneries and footwear factories in EPZs of Bangladesh.
Recalling that Korean companies were the first to invest in the RMG sector in Bangladesh during her first term in 1996-2001, Hasina said Korea may invest in 'Bangabandhu Sheikh Mujib Shilpa Nagar' which is the most potential investment hub for the investors under G2G and PPP model.
She urged South Korea to import woven garments, pharmaceuticals, knitwear, jute and jute products, leather and leather goods, frozen food, ceramic items from Bangladesh.
On Rohingya issue, the Korean team highly appreciated Bangladesh for giving shelter to the forcibly-displaced people. They said anything that they can do they'll do over the Rohingya issue, Ihsanul Karim said.
Noting that Bangladesh is a very potential country, the Korean team members said there are huge investment opportunities here.
They said Korea wants to cooperate with Bangladesh in energy, ICT and defence sectors.
On his arrival at the Prime Minister's Office at 4:20pm, Sheikh Hasina received the South Korean Prime Minister at the Tiger gate with bouquet and then the two leaders moved to the meeting room.
Both the prime ministers also held a tete-a-tete before the official talks.
After the talks, three instruments were signed between Dhaka and Seoul.
South Korean Prime Minister Lee Nak-yon arrived here on Saturday afternoon on a three-day official visit.