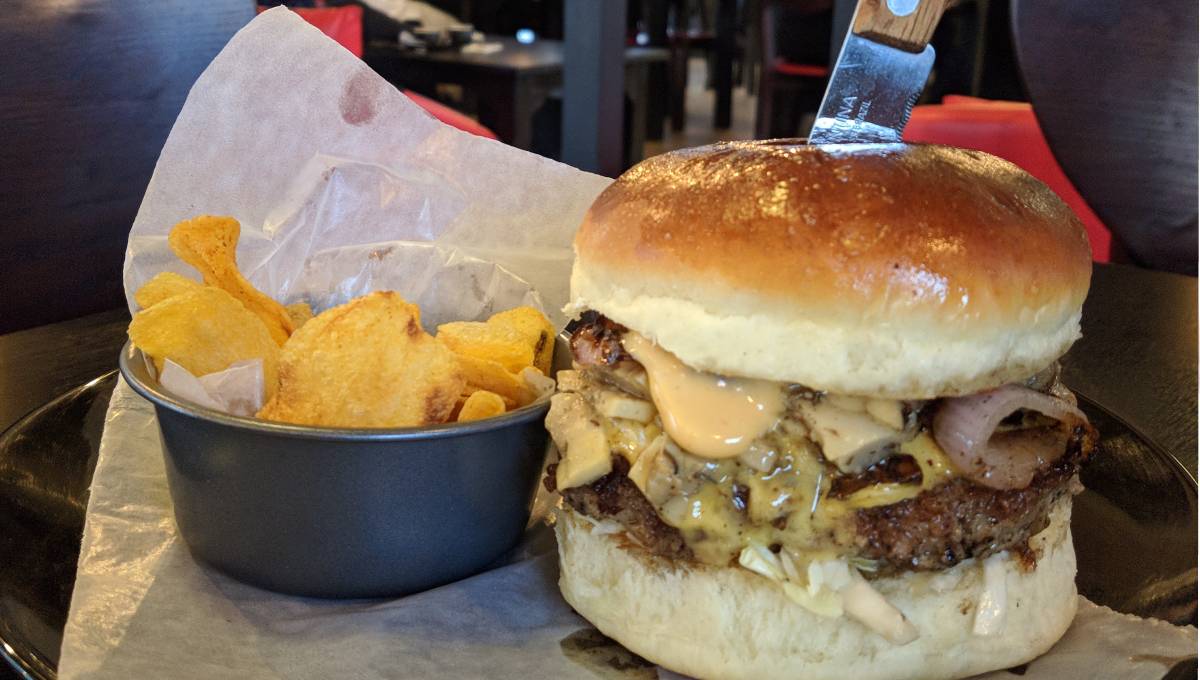 Burger People by Sugarpuffs is one such joint located at Badda Link road attempting to serve gourmet burgers at a mid-ranged price. With patties weighing 120gm (grinded in-house), this 100% meaty burger has created quite a hype amongst food enthusiasts.
As soon as I read reviews of it being one of the best burgers in town, I made my way to their location right after Eid. The location was a little tough to find but upon entering, we were overwhelmed by the cozy ambience. We ordered their specialty, the Madcow Supreme and the Mushroom Supreme. We also took upon their suggestion of ordering an Oreo Shake.
Our food was served within 10-15 minutes. Unlike other reviews that I had read, we weren't asked about the doneness of the patty or the spice level but there is an option to adjust accordingly. The presentation of the burgers was very rustic and it came with a side of potato crisps seasoned with chili powder.
As soon as I took a bite from the Madcow burger, my patty had crumbled and fallen apart. However, taste-wise, I must say the flavors were bang on. I was delighted to taste bits of pickle in my well-seasoned burger. The meat was moist and juicy which is quite rare now-a-days to find in a burger. But it was the bun which was really the star. They were made in-house and very light! Fresh tomatoes, caramelized onions, and the bacon added a distinct flavor to every bite. I did feel that iceberg lettuce would do more justice than the regular one but the cabbage chunks were a great addition.
The Mushroom Supreme also had the same patty at the center. If I were asked what's the difference between the two burgers, I would only be able to differentiate it by the addition of grilled mushrooms. After having the Madcow Supreme, this one might be slightly underwhelming.
The Oreo Shake was definitely pricey though for something so regular tasting. I would have preferred more quantity for the price I paid for this drink. In all, you would really enjoy Burger People if you are tired from all the ketchup-mayo mixture.