Sundarbans has Tk 18,816-cr carbon reserve: Survey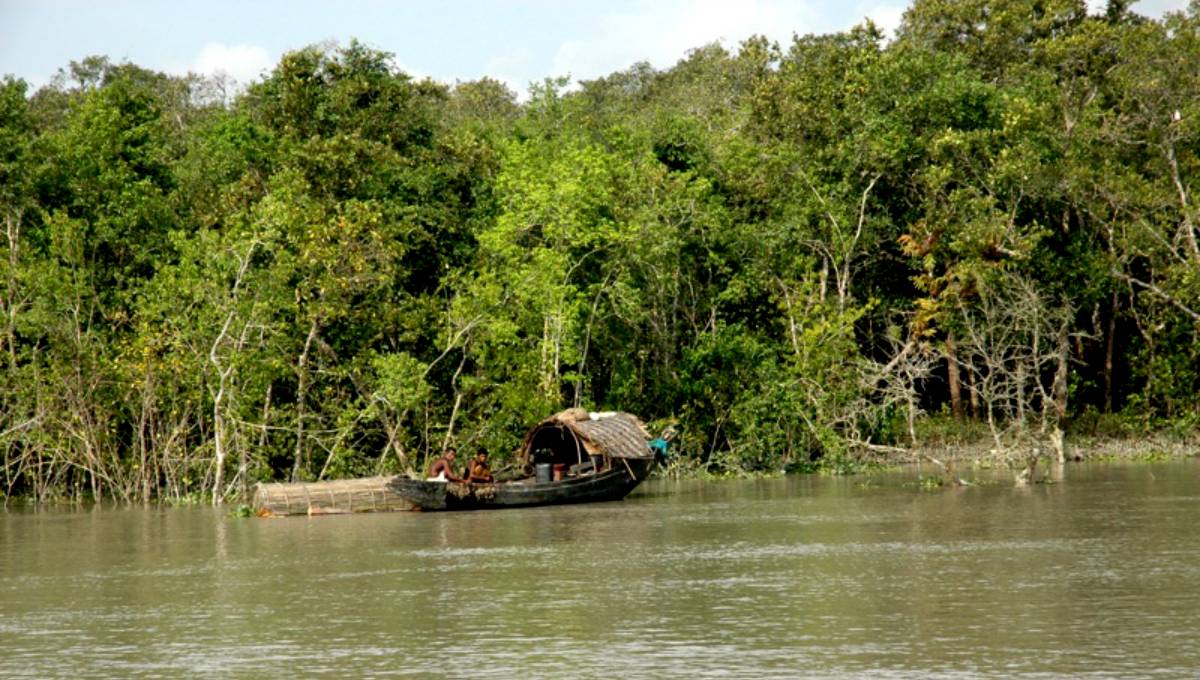 Khulna, June 7 : There is a reserve of 5.6 crore tonnes of carbon in the Bangladesh part of the Sundarbans, says a survey of the Forest Department.
This carbon worth Tk 18,816 crore could be extracted without causing any harm to the world's largest mangrove forest, experts said calling for taking steps to collect the substance.
According to the current price in the Chicago carbon market, the carbon reserve in the Sundarbans would help the country earn  Tk 18,816 crore.
The World Bank's observatory report released on January 25 last said the carbon price will rise from $40 to $80 per metric ton by 2020 and to $ 100 by 2030.
The Forest Department conducted the survey with financial and technical support from USAID, Silver Carbon, and Food and Agriculture Organization of the United Nations (FAO). The survey was launched on December 10, 2016.
The surveyors collected information from 173 sample plots in the Sundarbans out of total 1,858 across Bangladesh.
The study revealed detailed information about forest resources, trees and its types, wood and fuel wood, carbon reserve and other facilities provided by the Sundarbans.
The Environment, Forests and Climate Change Ministry and the USA jointly conducted a feasibility study titled 'Sundarbans Foreign Carbon Inventory 2009' in 2009 before the survey.
Experts involved in the survey said the ministry is yet to give permission to sell the reserved carbon.
Besides, Bangladesh has not yet registered at the international carbon stock market even in 10 years after the initiation of the 'Sundarbans Foreign Carbon Inventory'. It is still to appoint any international broker house to this end.
Md Shafiul Alam Chowdhury, thec Chief Conservator of Forest, said, "The carbon stock in the Sundarbans can be sold to carbon emitting developed countries and multinational companies. The process of appointing broker is underway. Primarily, there's a plan to sell the Sundarbans carbon stock in the international market. Later, more forests would be brought into this list."
Deputy Minister for Environment, Forests and Climate Change Habibun Nahar said they will take steps to this end after collecting necessary information about the carbon sale. "It'll be ensured so that people residing around the Sundarbans are also benefitted along with the government with the carbon sale."
According to the Kyoto Protocol, carbon trading allows nations who are unable to meet their reduction targets to purchase carbon credits under a unified regulatory framework. The carbon credits can be purchased from other member nations who own a GHG quota that they no longer require or alternatively new credits can be created through the financing of projects that reduce GHG emissions.
It says any developing country protects its forest resources and takes initiative of reforestation in decayed forests, it can sell carbon to developed countries. A developed country can purchase the amount of carbon it emits.
Prof Nazmus Sadat of the Forestry and Wood Technology Discipline at Khulna University said the sale of the carbon reserve in the world market will not affect the Sundarbans. "But some steps must be taken before entering the carbon market. We've to see how much we are able to reduce deforestation. That will determine how much carbon we can sell in the world market. We haven't yet reached that stage."