Tamim applauds Soumya for his approach in the middle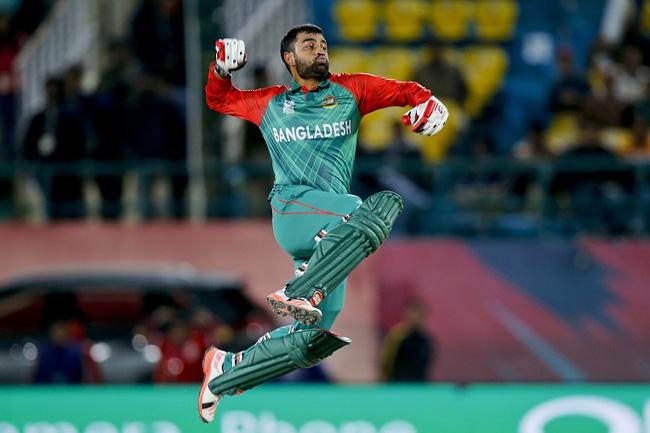 Dhaka, May 11 : Bangladesh stalwart Tamim Iqbal applauded his opening partner SoumyaSarkar for his calm approach in the middle.
Bangladesh have won their first match in the ongoing tri-nation series in Ireland against West Indies. Soumya contributed with a solid 73 off 68 with a six and nine fours.
Tamim and Soumya added 144 runs in the first wicket stand, which is now Bangladesh's biggest opening stand outside the home soil. At the same time, it was the biggest first wicket stand of the Tigers against West Indies as well.
"It was tough for me to score runs at a certain point of my innings. I was playing well but the ball was going straight to the fielders. I don't know why nothing was going right at the wicket," Tamim told the media on Friday after a practice session in Dublin.
"If the same thing would have happened for my partner (Soumya), we had to lose both of our wickets. However, Soumya responded well and helped me to reduce my pressure," Tamim further told the reporters.
Instead of creating trouble for the opposition going with right and left-handed combination in the opening stand, Bangladesh team management chose Soumya, who is a left-hander, to start the innings with Tamim.
Tamim said the terms of right and left-handed combination no more a surprise package in international cricket. He believes the opening pair of two left-handers can also be world-class.
"I don't think it is a surprise anymore in modern day cricket. If it would have been a big thing, we had not seen the pair of Matthew Hayden and Justin Langer. However, a team can plan many things. It is not a big matter to me," Tamim told the reporters.
Relying on the solid foundation of 144 by Tamim and Soumya, Bangladesh beat West Indies in their first match in the tri-nation series by a big margin of eight wickets.
However, the second match of the Tigers in the series was washed out due to persistent rain in Dublin. The match was scheduled to be played against the hosts Ireland.
Mashrafe's men will lock hor against West Indies again on May 13 before the last match against Ireland on May 15.
This is considered as the golden chance of Tigers for gearing up before heading to the World Cup. Bangladesh will start their World Cup assault against South Africa on June 2. It is believed that Tamim and Soumya will continue to open the innings for Bangladesh in the World Cup as well.